Yangmo (Harvey) Ahn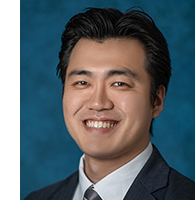 Hometown: Daejeon, Republic of Korea (South Korea)
Email: yza5102@psu.edu
Legal Areas of Interest:
Intellectual Property, Energy and Environmental Law, Cyber Currency and Security
Undergraduate Study:
Seoul National University, National Institute for Lifelong Education — International Intellectual Property Training Institute (IIPTI), and Seoul Digital University
Campus and Community Involvement:
Dean's Fellow, Student Member of Dickinson Law Trusted Advisory Group for LL.M. for Foreign Lawyers Program, Asian Pacific American Law Student Association (APALSA) — President, Dickinson Intellectual Property Law Society (DIPLS) — Vice President, Law Lion Ambassador; Dickinson Law Review — Associate Editor, Women's Law Caucus (WLC) mentorship program — Mentor, CLEO PLSI 2020 hosted by Penn State Dickinson Law — Teaching assistant, Student employee of the Information Technology office
A Dickinson Law Favorite:
Actively engaging in a law school community is an essential part of a law school student's life, because, at some point, you will need help and support from the community. In a large-scale class setting, it will be very hard to do so. But, at Dickinson Law, its small class sizes make it easy to access resources, support, and help from the community, including professors, staff, and students.
Why Dickinson Law?:
In 2019, I attended an admitted student open house event, and I felt a welcoming, inclusive, and warm atmosphere. This was very critical for me because I was planning to move to the United States with my wife and daughter, and I was assured that I could settle down and focus on studying with the support of the community.
Internship:
This summer, I worked as a Law Clerk at McNees Wallace & Nurick LLC. I applied for the position through the Dauphin County Bar Association's Capital Area Managing Partners (CAMP) 1L internship program. I engaged in various legal work of the law firm's practice groups such as Intellectual Property Group (Patent), Energy and Environment Group, Litigation Group, Labor and Employment Group, and Construction Group. Through my internship, I improved my legal writing and legal research skills. Also, I had a virtual coffee hour to meet attorneys in the law firm, and met many attorneys who gave me beneficial advice and tips to develop my legal career.
Favorite Course:
Every course I had so far excited me because every professor provided wonderful lectures in different ways.
Advice for Prospective Law Students:
Joining law school means a lot to each law student, but law school requires law student to commit many endeavors to become a successful law student. I would like to define success in law school as a relative value.
Something You Love About Carlisle:
I am from a metropolitan area of the Republic of Korea (South Korea). Carlisle is a small city, but it provides a perfect environment for a family. It is a pleasure to live with the composure that Carlisle gives us.
On Choosing A Law School:
For law students, deciding where you want to practice after graduation is critical in the job search process. In that regard, Dickinson Law can provide advantages because in two or three hours, you can access big legal markets if you desire. Also, it is very close to Harrisburg, the capital of Pennsylvania. I did not think thoroughly about where I want to practice law, but luckily now I'm in the right place.
As an international student, I would like to suggest to research before joining a law school how much the law school actively supports and helps international students. Otherwise, it will be a long, lonely, and stressful struggle.
You'd Never Guess That… :
My wife is a recent LL.M. graduate (class of 2020) of Dickinson Law, and we  attended law school together. My daughter never took the LSAT, but she could attend class with us occasionally. This year, finally, she will attend her school — kindergarten!