Tony DeAgostino '21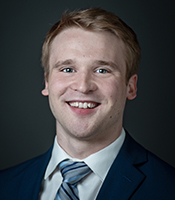 Hometown: Petoskey, MI
Email: ajd558@psu.edu
Legal Areas of Interest:
Criminal, Civil and Administrative Litigation
Undergraduate Study:
Western Michigan University
Campus and Community Involvement:
Intramural sports, Criminal Law Society
A Dickinson Law Favorite:
I enjoy the class size and tight-knit feeling. It creates a sense of healthy competition, yet it is not overly competitive. Everyone is willing to help one another both inside and outside of the academic realm.
Why Dickinson Law?:
After I visited Dickinson Law, I fell in love with it. Being practice-ready upon graduation and being involved in the community are what I want out of my law school experience.
Internship:
I had the opportunity to be both a judicial intern and a research assistant this past summer. The judicial internship gave me great insight into the day-to-day life of public defenders, district attorneys, and judges. Both my judicial internship and my position as a research assistant allowed me to hone my legal research and writing skills.
Favorite Course:
I enjoyed Criminal Law because we had plenty of opportunities to verbally present arguments on a wide range of issues. I enjoyed Constitutional Law because it is applicable to the everyday headlines we see regarding our federal government.
Advice for Prospective Law Students:
Treat law school like a job. This means you should clock in each morning and work through the day by going to class, keeping up with assignments, etc. It also means you should clock out. Take time for yourself each day to do the things you enjoy doing after your "work day" is done.
Something You Love About Carlisle:
The restaurants! Carlisle has a great food and drink scene. There are restaurants available for whatever kind of mood you're in.
On Choosing a Law School:
Enjoy the process. Don't worry about seeming like the "perfect candidate" on visits. The visits are for YOU. Gather as much information as you need and ask all the questions you want answers to.
You'd Never Guess That... :
I absolutely love The Lord of the Rings, Star Wars, and both NFL and collegiate football.