Tony Ciarlante '21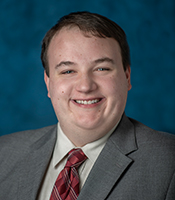 Hometown: Shippensburg, PA
Email: auc1377@psu.edu
Legal Area of Interest:
Criminal Law
Undergraduate Study:
Shippensburg University
Campus and Community Involvement:
Federalist Society, Christian Law Community at Dickinson Law
A Dickinson Law Favorite:
I really enjoy the small class sizes. I know everyone in my class and almost everyone in the Law School. Professors are very one-on-one, which allows for an individualized experience.
Why Dickinson Law?:
I was born and raised in the Shippensburg area, and wanted to be close to home.
Internship:
During the summer after my 1L year, I had the privilege of working at the Broward County State Attorney's Office in Fort Lauderdale, FL. I gained a lot of real-world legal experience and helped solidify my love for criminal law, which is what I want to practice once I complete law school.
Favorite Course:
My favorite course, despite my love for all things criminal, has probably been Property. I loved the in-class simulations (that's the way I learn best), which showed me my strengths and weaknesses.
Advice for Prospective Law Students:
Find the school that works best for you and your goals, and not necessarily the school that someone else wants you to attend or the school with the highest rank. All law schools have something unique and special to offer, and you should compare and contrast what you're looking for in a school experience
Something You Love About Carlisle:
It has pretty much everything you could ask for in a small town: interesting restaurants, bars, breweries, events, and beautiful farmlands and mountains surrounding it.
You'd Never Guess That... :
I have played chess competitively since I was eleven, and I've competed in four countries.