Stephanie-Rose Orlando '21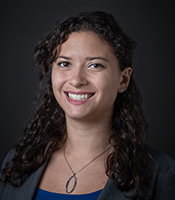 Hometown: Jackson, NJ
Email: suo241@psu.edu
Legal Areas of Interest:
I am interested in a large variety of legal areas right now: estate planning, health law, criminal law to name a few!
Undergraduate Study:
The College of New Jersey
Campus and Community Involvement:
Student Bar Association, Women's Law Caucus, Animal Legal Defense Fund, LexisNexis (student employee)
A Dickinson Law Favorite:
I enjoy that the professors are involved in more than just the classroom because it makes me more comfortable asking for help when I need it. I also love the events the Law School hosts because they help build connections between the different classes and the professors.
Why Dickinson Law?:
I really liked the set-up of the town, and its proximity to South Jersey allows me to visit my family on some weekends.
Internship:
I will be participating in the Medical-Legal Partnership Clinic this year, which I am sure will benefit me in numerous ways. This past summer, I was hired by a Dickinson Law alumnus to intern at a well-regarded firm in New Jersey.
Favorite Course:
Criminal Law. It was very interactive.
Advice for Prospective Law Students:
Pick a social networking app, or multiple apps, and remove them from your phone. It's amazing how much extra time I found without Instagram at my fingertips.
Something You Love About Carlisle:
I love being able to walk everywhere. I can grab lunch with my friends after class or walk to the park to relax.
You'd Never Guess That... :
My favorite take-out food is Chinese, but I only order white rice.