Schenley Kent '23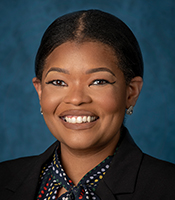 Hometown: Steelton, PA
Email: suk169@psu.edu
Legal Areas of Interest:
Bid Protests, Business Law, Corporate Compliance, Employment Law, Energy and Utility Law, Procurement
Undergraduate Study:
The Pennsylvania State University
Campus and Community Involvement:
Black Law Students Association, Business Law Society, Jewish Law Students Association, Latinx Law Students Association, Middle Eastern and South Asian Law Students Association, OutLaw, Phi Alpha Delta, Women's Law Caucus
Life Before Dickinson Law:
Prior to coming to law school, I managed contracts for the state and federal government.
A Dickinson Law Favorite:
The number of resources available to students is phenomenal. Dickinson Law is like a small liberal arts school with the robust resources of a large university.
Why Dickinson Law?:
I am from the area and an undergraduate of Penn State, so it was a natural choice for me to apply to Dickinson Law.
Externship:
During my first year, I interned with a mid-sized law firm that specializes in utility law. Prior to working at the firm, I took for granted the impact that utilities have on my life. From impacting the cost of goods to innovative new technology, utility rates that consumers pay are an integral part in the delivery of services.
Favorite Course:
Both Legal Writing II with Professor Prince and Context and Competencies with Dean Williams provided practical lawyering skills that are extremely helpful.
Advice for Prospective Law Students:
If you have the calling to go to law school, do it! A dream never dies, and it's likely that neither will your desire to pursue a juris doctor.
Something You Love About Carlisle:
Carlisle is a gem of a small town. There are great places to go. One of my favorite places is Creative with Cents at the Carlisle Antique Mall.
On Choosing A Law School:
Find a tribe of people outside of law school who will continue to love on you. If you move away from your home base, find that connection with local people. Don't fold into yourself. Reach out to other people for support.
Favorite Book:
Anything by Octavia E. Butler