Sarah Phillips '20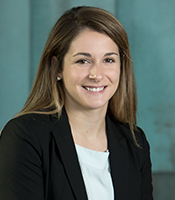 Hometown: Lambertville, NJ
Email: srp61@psu.edu 
Legal Areas of Interest: 
Agricultural and Environmental Law, Corporate Law
Undergraduate Study: 
Dickinson College
Campus and Community Involvement: 
Class of 2020 honor code representative, Environmental Justice Law Society
A Dickinson Law Favorite: 
I enjoy the community at Dickinson Law. I find it enjoyable to learn in an environment where everyone is there to have a positive learning experience, and that's what I have found at Dickinson Law. My classmates, the faculty, and the staff are all here to support one another and to make sure that everyone who is part of this community is genuinely happy and successful. Everyone is friendly and helpful, and truly wants to get to know you.
Why Dickinson Law?: 
I decided to come to Dickinson Law because I wanted to experience law school in a small, close-knit community. I liked the hometown feeling of Carlisle, and I knew that at Dickinson Law, I would be part of the supportive network of students, faculty, and staff that make for such a great learning environment.
Internship:
During my summer internship at MetLife in the Investments Law Department, I had the opportunity to work on contracts from start to finish, all relating to different types of investment deals, which keeps things interesting. I was also fortunate enough to learn how to draft documents such as default notices and non-disclosure agreements. The internship also included standard legal research assignments and proofreading both contracts and client correspondence. My supervisor allowed me to observe the negotiations for multimillion dollar deals, which has been very interesting to learn from (although very intimidating!). From week one of my internship, I learned the importance of reading and writing carefully and strategically. In practice, real clients are counting on you to draft and negotiate the best deal possible that accomplishes their goals, and that requires strong, careful, and deliberate reading and writing.
Favorite Course:
My favorite course is Torts. The subject matter itself is very interesting and relatable to everyday life, but Professor Mogill makes learning the material easy and fun!
Something You Love About Carlisle:
I love the hometown feeling of Carlisle. The people are friendly, there is always something going on downtown, and the atmosphere makes you feel welcome.
Advice for Prospective Law Students:
I would suggest trying to keep the big picture in mind. It is so easy to get stressed and bogged down with the day-to-day material, projects, and tasks, but really try to remember the end goal: why did you decide to come to law school? If you can remember that, and have a goal or mission to look forward to in the future, it helps to keep things in perspective and manage the stress of law school much better.
On Choosing A Law School:
Location is so important! For me, I wanted to be close to my home state of New Jersey, but it really is important to think about the type of location you want to spend three years in and where you want to end up one day.
You'd Never Guess That… :
I have my own herd of dairy cows! Together, my younger sister and I own, breed, and show dairy cows. We spend the winter and spring raising them and caring for them, and spend our summers and early fall traveling to different shows with our cows.