Samuel "Trey" Manning '20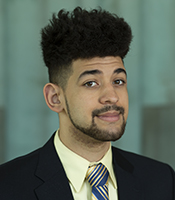 Hometown: Harrisburg, PA
Email: sum773@psu.edu
Legal Areas of Interest: 
Criminal Law, Public Interest
Undergraduate Study: 
Lebanon Valley College
Campus and Community Involvement: 
Bethesda Mission Expungement Clinic, coordinator; Black Law Student Association, president; Criminal Law Society, treasurer; Public Interest Law Fund, co-event chair
A Dickinson Law Favorite: 
I enjoy the intentionally small class sizes. I believe that it has helped me to create more meaningful relationships with the professors and with my peers.
Why Dickinson Law?: 
I chose to attend Dickinson Law because I gained a true sense of support from the faculty and staff. During my visits to Dickinson Law and from the experiences shared with me from past and current students, I felt that the various members of the community really did support each other. In visits to other law schools, I did not feel a similar connection with the school's desire to help me succeed.
Internships: 
In the summer of 2018, I interned for the Pennsylvania Innocence Project. This internship cultivated my desire to advocate for marginalized populations. I worked with clients who had been wrongfully convicted of crimes they did not commit and reviewed files of potential clients by analyzing their claims of factual innocence. These experiences benefited my professional growth by giving me the opportunity to get hands-on experience with clients. This internship reinforced my ability to pursue a career in criminal law by allowing me to gain an immense amount of knowledge about the criminal justice system, prison system, and the post-conviction process in Pennsylvania.
Favorite Course: 
My favorite course that I've taken so far is Criminal Law with Professor Groome. I enjoy learning about criminal law, and I liked the way Professor Groome teaches it. The class structure is unique and provides a lot of practical skills. Professor Groome forces students to think on their feet and be able to articulate their understanding of the law.
Something You Love About Carlisle:
Alibi's is my favorite restaurant in Carlisle.
Advice for Prospective Law Students: 
Come visit the school. Meet our professors and staff, and talk with current students. In my opinion, the people make Dickinson Law unique. It was surprising to me how willing everyone at Dickinson Law is to meet with prospective students, so I urge you to take advantage.
On Choosing A Law School: 
I wish I would have treated the entire law school application and admittance process as my first test of being a lawyer. You should advocate for yourself throughout the process.
You'd Never Guess That… : 
I have four sisters and three brothers.