Sai Nitya Bodavala '24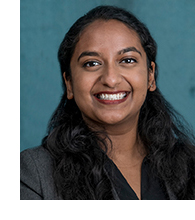 Hometown: Hyderabad, India
Email: skb6160@psu.edu
Legal Areas of Interest:
Corporate Law
Undergraduate Study:
Bachelor's in Economics from the University of Hyderabad
Campus and Community Involvement:
President, International Law Society; 2L Representative, MESALSA; Member, Hearsay Acapella Group; Senior Dean's Fellow; Assistant Site Coordinator, VITA Tax Clinic
Life Before Dickinson Law:
I grew up in Hyderabad in southern India. This is the first time I've left home!
A Dickinson Law Favorite:
Food trucks!
Why Dickinson Law?:
I wanted a place with a small, tight-knit community, and I found it here. Everybody at Dickinson Law genuinely wants you to succeed and they do everything that they can to support your efforts and chart your path.
Externship:
PA Department of State
Favorite Course:
Company Creation with Professor Prince
Advice for Prospective Law Students:
You do not have to have everything figured out from the get-go. Give yourself the space to figure out what you like and don't and be fluid with your plans.
Something You Love About Carlisle:
The walkability of the town.
On Choosing A Law School:
Think about the kind of educational environment you thrive in, and choose a school that reflects that.
Favorite Book:
I don't have a single favorite, but almost anything fiction or fantasy!