Robert Gavin '20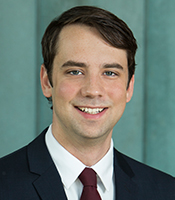 Hometown: Middletown, NY
Email: rug238@psu.edu
Legal Areas of Interest:
Juvenile Rights, Criminal Law, Family Law, Education Law, Civil Rights
Undergraduate Study:
Hofstra University, University of Hartford
Campus and Community Involvement:
Black Law Students Association, Criminal Law Society, International Law Society, OutLaw
A Dickinson Law Favorite:
I enjoy the feeling of community at Dickinson Law. I appreciate the variety of experiences and backgrounds of my classmates, as this diversity enriches my legal education. Dickinson Law allows us to share our background and experience in safe and authentic ways, and because of that, we really learn from each other.
Why Dickinson Law?:
Dickinson Law worked very hard to help meet my financial goals for attending law school. I knew that I wanted the best education at the best price, and Dickinson Law checked both boxes.
Internships:
My favorite experiences during my first year occurred whenever I was able to work with real people. It is important to keep in mind the reason for all of the studying, and for me, that was to help people in need. Through the intake clinics and expungement clinics at the Bethesda Mission and around the county, and at the Volunteer Income Tax Assistance clinic, I was able to work with people in various stages of need and services.
Favorite Course:
My favorite course was Criminal Law with Professor Groome. He enabled us to live inside the law as mock prosecutors and defense attorneys each day in his class. I really enjoyed his teaching style and appreciated his patience with us as 1Ls.
Something You Love About Carlisle:
Carlisle is a quiet and affordable town, which makes it great for pursuing your law degree.
Advice for Prospective Law Students:
Identify your most important factors for choosing a law school. Whether finances, location, programs, reputation, size, or something else, take the time now to figure out what you really want, and do the research to find the school that has those factors. You should absolutely visit.
You'd Never Guess That… :
I've been working on a pretzel recipe for about six years. Recently, I've been tweaking the flour blends and ratios. I use a lye dip to get that authentic brown skin on the outside like a traditional German pretzel.