Rebecka Bronkema '22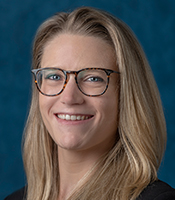 Hometown: Chicago, IL
Email: rrb5316@psu.edu
Legal Areas of Interest:
Criminal Law, Cyber Law, National Security
Undergraduate Study:
DePaul University
Campus and Community Involvement:
Secretary of Criminal Law Society, Vice President of OutLaw, Clerk for Phi Alpha Delta, Activities Coordinator of Women's Law Caucus
A Dickinson Law Favorite:
Dickinson Law has a unique community feeling among the staff, faculty, and students. Everyone here has a goal of ensuring the students are successful while in law school and in their careers. The community encourages individuals to succeed in the way they choose as long as they put the work in.
Internship:
Unfortunately, due to COVID-19, my internship opportunities were canceled; however, I was able to obtain a research assistant position with Professor Lucy Johnston-Walsh that provided an opportunity for me to practice my legal research and writing skills. This fall, I will intern with the Cumberland County Public Defender's Office. I am excited to learn how the office balances helping individuals within the community and ensuring justice.
Favorite Course:
My favorite 1L course was Criminal Law with Professor Groome. The class ensures students understand how to interpret the criminal code while providing an opportunity to develop unique arguments. It offers students a safe forum to develop confidence in themselves while learning the intricacies of the law.
Advice for Prospective Law Students:
Understanding the financial impact of law school is important, but it should not necessarily be the driving force in deciding where to attend. It is important to take law school culture, community culture, general area(s) of law you want to practice, and your own study habits into account when choosing the location and the law school you want to attend.
Something You Love About Carlisle:
Having lived in a city for the eight years prior to law school, I was happily surprised at the diversity within the Carlisle community. For a small town, there are a variety of cultures and cuisines available for residents to explore.
You'd Never Guess That… :
I participated in a two-week work experience program at a law firm in Leeds, United Kingdom after meeting a woman in a bar in Chicago.