Quamaine "Q" Montgomery '24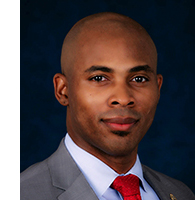 Hometown: Hollywood, Florida
Email: qvm5060@psu.edu
Legal Areas of Interest:
Venture Capital; Emerging Companies; Fintech; Real Estate; Corporate Governance
Undergraduate Study:
Florida Agricultural & Mechanical University
Campus and Community Involvement:
Dean's Fellow (2021-2022); Student Board Member, Association of Corporate Counsel; Legal Volunteer, Pardon Project; Legal Volunteer, Dauphin County Bar Association Child Custody Clinic; Employment Coach, Center for Urban Families; Student Bar Association, Speakers Trust Fund; Black Law Students Association; Business Law Society
Life Before Dickinson Law:
Before law school, I worked as a business consultant and spent several years managing business operations for companies in the Northeast and Mid-Atlantic.
A Dickinson Law Favorite:
The faculty, staff, and my classmates are all genuinely supportive and have created a sense of community where everyone is encouraged to thrive.
Why Dickinson Law?:
I chose Dickinson because I felt welcomed, supported, and encouraged and knew I would become a part of a cohort actively invested in my future. Additionally, I knew it was an institution that would join me in paying it forward for the next generation of law students.
Externship:
During my first year, I worked as a summer associate with White and Williams in their Philadelphia office. Working and learning alongside their phenomenal attorneys provided hands-on experience and valuable insight into the world of corporate transactions and litigation.
Favorite Course:
My favorite course was Civil Procedure with Professor Brent Newton. I loved the complexity and simplicity of the topic. Civil procedure is taught in a non-linear sequence, so it doesn't make sense until the end of the semester. Ultimately, I enjoyed being able to piece together specific rules to get the desired result. Professor Newton did an outstanding job of taking a very complex topic and simplifying it to a level that a third-grader could understand.
Advice for Prospective Law Students:
Many people will try to carve out a career path for you based on their experiences, which may place doubt in your mind, don't listen to them. Create a vision for your professional self, dream it, believe it, and become it.
Something You Love About Carlisle:
I love the small-town feel of Carlisle. Everyone knows everyone here. Even as a law student, I feel like I'm a part of the community.
On Choosing A Law School:
Law is a relationship profession. Choose a school where you feel valued, supported, and promoted.
You'd Never Guess That… :
If I weren't pursuing law, I would probably aim to be an astronomer or astrophysicist. The unknown of the universe intrigues me. I find it fascinating how much we've learned so far, yet so little we still know.
Favorite Book:
The Secret by Rhonda Bryne