Oliver Krawczyk '23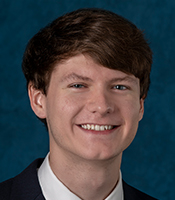 Hometown: Blairstown, NJ
Email: omk5092@psu.edu
Legal Areas of Interest:
Civil and Criminal Litigation, Constitutional Law, Firearms Law
Undergraduate Study:
Rutgers University   New Brunswick
Campus and Community Involvement:
I am the associate editor for the Dickinson Law Review and the treasurer for the Federalist Society.
Life Before Dickinson Law:
I started law school one year after graduating college, coming from a scientific academic and professional background. Before moving to Pennsylvania, I was a lifelong resident of scenic northwest New Jersey.
A Dickinson Law Favorite:
This law school is extremely student-focused. Professors go the extra mile! The career development resources and alumni network are extensive, but that's no surprise – Dickinson Law dates back to 1834.
Why Dickinson Law?:
I went to college at an immense research university. That, of course, had its perks, but for law school, I craved a smaller, more personalized environment. With an intentionally small class size and Penn State's nationally recognized name, Dickinson Law was the perfect choice. Cost of attendance was a huge factor for me, and I was made an offer I simply could not refuse.
Internship:
I am incredibly fortunate to have spent my 1L summer working for Dickinson Law alumni at Ambler Law Offices, a boutique criminal defense firm where I focused on constitutional and firearm issues. Besides extensive mentorship, I have had frequent courtroom exposure and the opportunities to draft vital court documents as well as publish updates on regulatory issues. After expressing my relatively niche interests in a class, it was Dean Williams who pointed them out to me and recommended I reach out.
Favorite Course:
I loved the Legal Writing sequence with Professors Blasie and Prince. Writing is an exceptionally important skill in the legal field, and I was prepared so well that I was able to hit the ground running at my summer internship.
Advice for Prospective Law Students:
Treat law school like a full-time job. This is a professional endeavor, and having a regular schedule is a huge help. Also, take a deep breath! You will be challenged, but you absolutely will have time to live your life.
Something You Love About Carlisle:
Carlisle is the perfect size, somewhere between a large town and small city in my book. It is situated right in the Cumberland Valley with mountain views to the north and south, and a handful of major cities nearby. The food options in and around Carlisle are legendary.
On Choosing A Law School:
You should make every effort to visit prospective law schools. I had such a welcoming, positive experience at the Admitted Student Open House in 2020 that I knew Dickinson Law would be a great fit. It's easy to get caught up with various unduly emphasized metrics and lose sight of what actually matters. For me, culture, bar passage, and job outcomes were paramount, and Dickinson Law was an excellent choice.
You'd Never Guess That… :
I am an avid collector of guitars, basses, effects pedals, and amps.
Favorite Book:
A recent favorite is 12 Rules for Life: An Antidote to Chaos by Jordan B. Peterson.