Nick Cherry '21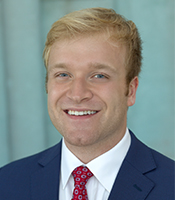 Hometown: DuBois, PA
Email: npc121@psu.edu
Legal Areas of Interest:
Business Law, In-House Counsel
Undergraduate Study:
University of Pittsburgh
Campus and Community Involvement:
Aside from being a Law Lion Ambassador, I am the Competition Chair for the Sports & Entertainment Law Society, and a member of Phi Alpha Delta and the Business Law Society. I am Dean Williams' Research Assistant, and worked for the Elder Law Project as well. I was also a member of Dickinson Law's softball tournament team, and was actively involved in the planning for 2020's tournament prior to its cancellation.
A Dickinson Law Favorite:
As cliché as it sounds, I really enjoy the whole community. The entire faculty and student body are more than willing to help you grow as a lawyer and as a person. Additionally, the alumni are very involved and always willing to help current Dickinson Law students. Obviously, I have no experience at other law schools, but the way Dickinson Law operates seems unique in the best way. The sense of community within Dickinson Law is one that is not only stressed in words, but also in practice.
Why Dickinson Law?:
Dickinson Law checked just about every box on my list for law school. As I was researching and applying to law schools, several of the Dickinson Law Alumni I knew spoke highly of their alma mater, including Carlisle as a whole. After hearing these unfiltered yet glowing opinions of the Law School, which were overwhelmingly positive, I was sold.
Internship:
In the summer of 2019, I had an internship with Neiswender & Kubista, a law firm in Clearfield, Pennsylvania. I was also able to observe several proceedings at the Clearfield County Courthouse. During the spring semester of 2020, I was able to intern with Hershey Entertainment & Resorts' legal department. I will intern with Judge Lewis at the Dauphin County Courthouse in the summer of 2020, and have accepted an internship with the Pennsylvania NewsMedia Association for fall 2020.
Favorite Courses:
My favorite courses have been my problem solving (legal writing) classes with Professor Prince. Professor Prince made the classes great, as she gave constructive feedback on papers and briefs, never talked down to her students and always encouraged them, and did her very best to make the classes engaging and fun. These classes gave me the confidence and ability to write succinctly while still making effective arguments, an essential part of legal writing.
Advice for Prospective Law Students:
Trust your gut. You are going to have any number of people giving you their two cents about where you should go, which classes you should take, and everything in-between. Yes, advice can be very helpful, but there is a difference between advice and orders. You have to make decisions that feel right for you, otherwise it won't work out. Do what feels right, and everything will be fine.
Something You Love About Carlisle:
My favorite thing about Carlisle is the people. I have never experienced a community as friendly as the one in Carlisle, whether as a resident or as a guest. Walking to and from school, it is common to have several people smile, wave, and ask how you are. That incredible kindness is unique to Carlisle.
On Choosing a Law School:
I wish I would have known that it takes some time to get acclimated to the work of law school, and that's completely normal.
You'd Never Guess That... :
I used to work at Walt Disney World.