Mitchell Snyder '22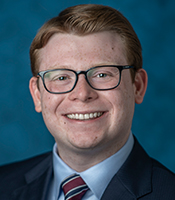 Hometown: East Amherst, NY
Email: mps6411@psu.edu
Legal Areas of Interest:
Civil and Criminal Litigation, National Security Law
Undergraduate Study:
Dickinson College
Campus and Community Involvement:
President of the Criminal Law Society, Associate Editor for the Dickinson Law Review, Federalist Society member
A Dickinson Law Favorite:
What I enjoy most about Dickinson Law is the community. When you decide to become a member of the Dickinson Law community, you're becoming a member of a family. From the faculty to my fellow students, I could not have imagined how supportive everyone would be of my endeavors! 
Why Dickinson Law?:
Dickinson Law's focus on practical skills-based education was exactly what I was looking for. The opportunities for hands-on experience and practice in law school was what made me choose Dickinson Law.  
Internship:
This past summer, I interned at the U.S. Attorney's Office for the Middle District of Pennsylvania. While there, I was given the opportunity to work with extremely talented trial attorneys on both criminal and civil issues. It further solidified my desire to become a trial attorney after graduation!
Favorite Course:
My favorite course, so far, has been Criminal Law. Professor Groome's unique manner of instruction made this class particularly enjoyable for me. He breaks up the class into prosecutors, defenders, and judges. The attorneys make their arguments about the cases we read, and the judges render their ruling.  
Advice for Prospective Law Students:
Don't forget to have fun! Things can definitely seem stressful your first year, but it is important to remember you are not going through it alone. Make time for your friends, and take a break every now and then! 
Something You Love About Carlisle:
I absolutely love the food in Carlisle! There are so many different options and amazing local restaurants to try. I highly recommend Momma Spriggs, Spoons, and Café Bruges.
On Choosing A Law School:
I wish I would have known how important community was to the law school experience. When I was looking at law schools, I focused my search on the types of programs, class offerings, and opportunities for internships. Since being at Dickinson Law and experiencing the tight-knit and supportive community that we have, I have increasingly come to realize how much it is a fundamental part of my time in law school.  
You'd Never Guess That… :
In my free time, I go swing dancing in town at the Green Door Swing Dancing Club!