Minh "Eric" Le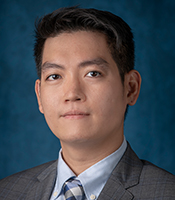 Hometown: Brooklyn, NY
Email: mhl5208@psu.edu
Legal Areas of Interest:
Antitrust, Business, Mergers and Acquisitions
Undergraduate Study:
University of Vermont
Campus and Community Involvement:
Asian Pacific American Law Students Association, Dickinson Law Review, Student Bar Association 
Life Before Dickinson Law:
I worked full-time for seven years before coming to law school doing legal and non-legal work.
A Dickinson Law Favorite:
The professors are brilliant. I have connected with so many cordial and supportive professors.
Why Dickinson Law?:
I wanted to attend a law school in a small town in order to focus on my studies.
Externship:
I completed a summer externship at the Federal Public Defender's Office. It was an amazing experience because it allowed me to attend trials and hearings. The most memorable experience has been attending a sentencing hearing, where I saw a defendant receiving a life sentence.
Favorite Course:
My favorite course is Criminal Law. Professor Groome did a great job presenting both sides of the story on various cases to challenge our perception of what is a crime and what is justice.
Advice for Prospective Law Students:
Take your first year very seriously and try to do well. It has a big impact on your post-graduation employment.
Something You Love About Carlisle:
I like the fact that Carlisle is pretty close to three major cities: Philadelphia, Baltimore, and Washington, D.C.
On Choosing A Law School:
I wish I would have known where alumni practice both geographically and by practice area. 
You'd Never Guess That… :
I write fiction. I am hoping to publish a novel later in life.
Favorite Book:
Zorba the Greek by Nikos Kazantzakis: it's a book about living a liberating and worry-free life.