Michaela Zanis '22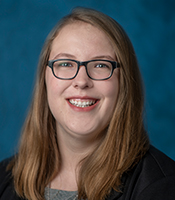 Hometown: Seltzer, PA
Email: mez5130@psu.edu
Legal Areas of Interest:
Criminal Law, Juvenile Advocacy
Undergraduate Study:
Dickinson College
Campus and Community Involvement:
American Constitution Society, Law Lion Ambassador
A Dickinson Law Favorite:
I really enjoy the small class size. It allows students to get to know each other and the professors at a more personal level.
Why Dickinson Law?:
I chose to attend Dickinson Law because of the sense of community, the focus on an experiential education, and the alumni network.
Internship:
During the summer after my 1L year, I interned in the Cumberland County Court of Common Pleas under the Honorable Jessica E. Brewbaker. Not only is Judge Brewbaker an alumna of Dickinson Law, but she also presides over Opioid Intervention Court and Mental Health Court. During my internship, I researched and authored opinions, and learned about the law from a rehabilitative lens by interacting with the specialty courts in Cumberland County.
Favorite Course:
I really enjoyed Constitutional Law with Dean Gaudion, including the material and how we connected the framework of past precedent to future issues that could go before the Supreme Court.
Advice for Prospective Law Students:
Keep an open mind during your studies. You never know when a class or a case might spark your interest and lead you to an area of practice you never considered. 
Something You Love About Carlisle:
I love the Carlisle ice festival that happens every February. I enjoy looking at the different ice sculptures when I walk to and from school.
On Choosing A Law School:
I wish I would have known that while every law school uses the Socratic Method to teach the material, that does not mean that every law school class looks the same. Professors will cold call on students to adapt to their own individual teaching styles and the subject material.
You'd Never Guess That… :
I have been playing saxophone since I was 11.