Michaela Hertoghe '22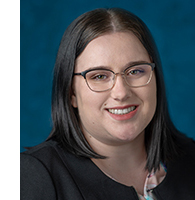 Hometown: Loomis, CA
Email: mhb5276@psu.edu
Legal Areas of Interest:
National Security Law and Emergency Management; Intellectual Property Law
Undergraduate Study:
University of California — Los Angeles
Campus and Community Involvement:
Philanthropy Chair of the Women's Law Caucus, Treasurer of the American Constitution Society, student employee for the Office of Admissions and Financial Aid, Leading Law Student on the YWCA Board
This year, I will be working with Professor Groome and other faculty members and students to present at the Race and the Equal Protection of the Laws program.
A Dickinson Law Favorite:
I enjoy the community that makes up Dickinson Law. From fellow students to faculty and staff, everyone is incredibly welcoming. We all want to see each other succeed and will go out of our way to help anyone in the Dickinson Law community. 
Why Dickinson Law?:
I chose Dickinson Law because I wanted a small law school environment that would challenge me. After visiting, I knew Dickinson Law provided the intimate community I wanted while still providing challenging opportunities.
Internship:
While at Dickinson Law, I pushed myself out of my comfort zone and took a job as an admissions representative. This has been beneficial because it has forced me to make small talk and reach out to prospective and admitted students, which makes it easier for me to network.
This past summer, I was a Certified Legal Intern for the District Attorney of Lebanon County. During my 1L summer and both the fall and spring semesters of my 2L year I interned for the Pennsylvania Governor's Office of General Counsel at the Pennsylvania Emergency Management Agency. Completing this internship during the pandemic gave me a unique window into emergency management.
Favorite Course:
My favorite course so far has been Civil Procedure. I really enjoyed Professor Glenn and the challenging nature of the course. It is also a subject that you don't necessarily think about before attending law school.
Advice for Prospective Law Students:
Try not to fall into the trap of comparing yourself to others. Everyone is learning how to learn as a law student as well as learning the material at the same time. That process will look different for everyone. What works for a friend might not work for you, so it is a waste of time and energy to worry you aren't doing as much as the next person.
Something You Love About Carlisle:
I love that Carlisle is small but has all the stores you could need here in town, and always has some type of festival or show happening.
On Choosing A Law School:
Try and find a place where you can really see yourself thriving throughout the next three years. Speak to current students and alumni, and listen to their experiences to see if it aligns with what you would like your law school experience to be.
You'd Never Guess That… :
I have a Boston Terrier named Fenway!