Michael Kwon '20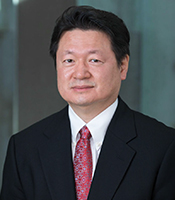 Hometown: Annandale, VA
Email: muk503@psu.edu
Legal Area(s) of Interest:
Intellectual Property, Business Law
Undergraduate Study:
College of William and Mary, University of Pennsylvania
Campus and Community Involvement:
Asian Pacific American Law Student Association, Dickinson Intellectual Property Law Society, Jus Gentium International Law Journal
A Dickinson Law Favorite:
The caliber and passion of the professors and fellow classmates. I enjoy interacting with them and learning from them. I love the Dickinson Law culture of genuine respect and concern for one another. The professors and school administrators go out of their way to get to know you and to support you. 
Why Dickinson Law?:
It was an easy decision after attending an open house for admitted students. I thoroughly enjoyed the visit, and I could see that Dickinson Law had the professors, staff, resources, opportunities, and culture for a top-notch legal education. 
Internship:
I worked in-house as a summer law clerk at an insurance company where I was thrilled to see my research memos and motions have an impact on actual cases (and I was proud to learn that our department head was a Dickinson Law alumna). I learned a lot about court procedures, researching unfamiliar issues, and drafting motions. However, the biggest lesson I learned from watching the attorneys was never to give up. When the facts and laws look absolutely adverse, it is still your job, as the attorney, to fight for your client as hard as you can.
Favorite Course:
Criminal Law and Contexts were inspiring and instilled in me a profound respect and pride in the legal profession. Constitutional Law showed what was involved in creating a nation that would last through the ages. Our Founding Fathers were geniuses.
Something You Love About Carlisle:
Carlisle reminds me of my childhood hometown. It's a safe and friendly town.
Advice for Prospective Law Students:
Visit the schools and choose the one that feels right for you. Everything about the school—the location, faculty, classmates—will play an important role in your life for the next three years and beyond. 
On Choosing A Law School:
Starting the application process early and doing your research is important.
You'd Never Guess That… :
I invented an electronic door lock, and I used to compete in Taekwondo tournaments.