Megan Moore '23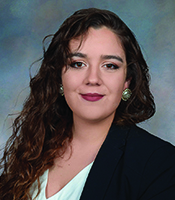 Hometown: St. Paul, MN
Email: mmm8193@psu.edu
Legal Areas of Interest:
Public Interest, Civil Rights and Social Justice, Entertainment Law
Undergraduate Study:
Iowa State University
Campus and Community Involvement:
Jewish Law Student Association, Leading Law Student on the Board for the Domestic Violence Services of Cumberland and Perry Counties, OutLaw, Women's Law Caucus
Life Before Dickinson Law:
I grew up in Minnesota before going to Iowa for college. During high school and college, I was very involved with organizations like the American Cancer Society and the National Bone Marrow Donor Registry. During college, I was fortunate enough to study abroad in Sweden and intern in Prague with the freedom to travel all over Europe in my free time. After college, I was a Victim-Witness Advocate and Trial Coordinating Intern for my county attorney's office while studying for the LSAT. I started at Dickinson Law one year after graduating college.
A Dickinson Law Favorite:
My favorite thing about Dickinson Law is the supportive community. Despite the pandemic and hybrid learning during my first year, I feel very connected to my classmates and the school. The faculty and staff are very accessible and are always willing to help in any way they can. The school hosts many events and gatherings for networking and community-building. It is obvious that the school cares deeply about student well-being and mental health.
Why Dickinson Law?:
I chose Dickinson Law because of its commitment to its students and to social justice, and because it offered me a high-quality legal education without the crippling debt that I would have had at other law schools.
Internship:
This fall, I will intern with the Pennsylvania Coalition Against Rape. I am on the board of the Domestic Violence Services of Cumberland County as a Leading Law Student, which has helped me to feel connected to the community by giving back and learning about problems that need to be addressed. 
Favorite Course:
My favorite 1L course is Legal Writing. I love writing, and I enjoyed the challenge of crafting persuasive arguments. 
Advice for Prospective Law Students:
Before you start law school, think about the positive habits you will need to build and negative habits you will need to kick to be successful and happy while in school. Law school can take a toll on your mental and physical health. It is best to start building positive habits early so that you can stick to them to avoid feeling overwhelmed. 
Something You Love About Carlisle:
I was nervous to move to Carlisle because I wanted to be in a big city for law school, but I have grown to love this charming town. Carlisle has a wide variety of great restaurants to choose from and there are often events downtown, including a weekly farmer's market. I love that Carlisle is so close to big cities like Philadelphia, Pittsburgh, Washington, D.C., Baltimore, and New York. Harrisburg is also a nice city to visit. 
On Choosing A Law School:
It is important to ask about what student services the school has to offer. For example, Dickinson Law offers daily tutoring for 1L courses and free counseling sessions. 
You'd Never Guess That… :
I have traveled to over 17 countries. 
Favorite Book:
Circe by Madeline Miller