McKay Lewis '21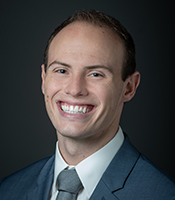 Hometown: Spanish Fork, UT
Email: mzl605@psu.edu
Legal Areas of Interest:
Criminal Law, Immigration Law
Undergraduate Study:
Utah State University
Campus and Community Involvement:
I am involved in both the Latinx Law Student Association and the Criminal Law Society. Both of these student organizations closely align with my professional interests. It is wonderful to interact with other students who share the same interests as you. I am also a member of the Dickinson Law Review.
A Dickinson Law Favorite:
One of the things that I enjoy most about Dickinson Law is the smaller class sizes. This really allows you to get to know your professors. Additionally, it fosters a better learning environment, as each student has more opportunities for individualized instruction.
Why Dickinson Law?:
I chose to attend Dickinson Law after I toured the campus. I instantly fell in love with not only the Law School, but also the town of Carlisle. After learning more, I knew that Dickinson Law offered everything I wanted in a law school and would be able to help me accomplish my professional goals. This, combined with a competitive scholarship package, made Dickinson Law the perfect fit for me.
Internship:
I was a law clerk for the Cache County Attorney's Office in Logan, Utah the summer before my 2L year. This internship was amazing. I worked closely with the prosecutors in the office to draft memos, motions, and responses to motions. I observed court often and sat in on negotiations between prosecutors and defense counsel. I have also been a research assistant for two different professors, which has helped me further develop both my research and writing skills.
Favorite Course:
My favorite course was Criminal Law. I loved this course because Professor Groome is amazing. He brings years of experience as a prosecutor and a unique perspective on the criminal justice system. I want to be a prosecutor after graduation, and this class only solidified that desire.
Advice for Prospective Law Students:
Work hard and have fun! Law school is unlike anything you have ever experienced. It is extremely difficult and stressful, but it is also a time in your life that you will never forget. Focus on cultivating both professional and personal relationships that will last your entire life, and do not forget to take some much needed "you" time every now and then. Also, make sure you try your absolute hardest so that you have no regrets at the end of the experience!
Something You Love About Carlisle:
Redd's BBQ. Their macaroni and cheese is to die for.
On Choosing a Law School:
Trust your gut instinct. When you find the right school, you will know. It will feel like home.
You'd Never Guess That...:
I am fluent in Spanish and love to listen to Spanish music, read Spanish literature, and watch Spanish movies.