Mallory Turner '23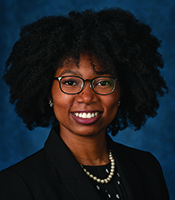 Hometown: Bogue Chitto, MS
Email: mxt5573@psu.edu
Legal Areas of Interest:
Family Law, Education Law, International Law, Election Law
Undergraduate Study:
Jackson State University
Campus and Community Involvement:
President of the American Constitution Society, Black Law Students Association, Law Lion Ambassador, Leading Law Student/Board Member of the Carlisle Arts Learning Center, OutLaw
Life Before Dickinson Law:
I am from Bogue Chitto, MS. I have lived multiple lives before attending law school from waitressing to living abroad; however, law school was always the plan. I have seven years of experience in education and spent the last four years working with GED students. It was fulfilling to help my students achieve new levels in their education, apply to college, and prepare them for the workforce. Their tenacity inspired me to apply to law school.
A Dickinson Law Favorite:
I like that the Dickinson Law environment centers around helping the students. The professors are accessible. There are weekly tutoring sessions. I have unlimited access to online study aids that are otherwise costly.
Why Dickinson Law?:
I knew that it would be beneficial for me to attend a law school with a smaller class size. The 0L to 1L transition solidified that I made the right decision. Dickinson Law's admissions team was helpful in the process, and I enjoyed attending the summer virtual programs they hosted for incoming students.
Internship:
During my 1L summer, I completed an internship an IOLTA fellow at Laurel Legal Services (LLS) in Greensburg, PA. LLS provides free civil legal services to qualified, low-income clients residing in six counties in Western Pennsylvania in areas such as Protection From Abuse (PFA), Custody, Landlord and Tenant, Social Security Income, Unemployment Compensation, Public Benefits, Guardianships, and Expungements and Record Sealings. This was an in-person internship based in civil law, so I was at a courthouse multiple time a week. Sometimes the testimonies were difficult to hear, but my ultimate realization is that I love being in court. Western Pennsylvania has a beautiful mountainous landscape, and I made sure to explore the area. Two things that stand out to me were my visits the Carnegie Museums in Pittsburgh and having a Primanti Brothers sandwich.
Favorite Course:
Property Law: Professor Martin Skladany was my professor, and he challenged my class in ways that I did not anticipate. While we did cover topics that would be on the bar exam, he also challenged us with global issues in relation to economics and philosophy. I do not believe that I would have enjoyed Property as much as I did if he were not my professor.
Advice for Prospective Law Students:
Study for finals while also preparing for class. Yes, read the cases for class, but also practice multiple choice and essay questions ahead of finals. Get enough sleep, including during finals. Have a life outside of law school. Make time for friends and family. Meet with your professors. You want to get to know them and go over gaps in your notes/outlines. Network. Grades are important, but you should also begin to build your network while in law school.
Something You Love About Carlisle:
I like that it is a small town, yet close enough to major cities. The cost of living is affordable, and I am a five-minute drive from campus.
You'd Never Guess That… :
I make homemade desserts that are typically southern. My mother was the community baker, so I have over twenty years of experience because I began assisting her as a child. My specialties are cakes, pies, cobblers, ice cream, cookies, cinnamon rolls, cupcakes, and brownies.
Favorite Book:
The Autobiography of Malcolm X: As Told to Alex Haley. Malcolm X was one of the most intelligent people to never graduate from high school. Everything that he learned and accomplished was out of sheer determination. This book nuanced his life and made me admire his resilience and empathize with his experiences. It is one of those books that lingers with you for years to come.