Madelyn Snyder '22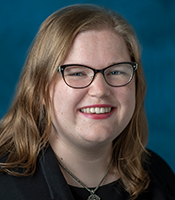 Hometown: Mount Holly Springs, PA
Email: mrs6582@psu.edu
Legal Areas of Interest:
Public Interest, Criminal Law, Government
Undergraduate Study:
Eastern University Templeton Honors College
Campus and Community Involvement:
Vice President of the Animal Legal Defense Fund, Student Worker for Development, Associate Editor for Dickinson Law Review, Research Assistant for Professor Donelson, Leading Law Student for Project SHARE
A Dickinson Law Favorite:
I love the community at Dickinson Law. The staff, the professors, my classmates, alumni… I've made some wonderful connections here and have learned from each group. 
Why Dickinson Law?:
I was very impressed by the professors and alumni. I also loved the small-by-dessign class sizes and the programs, especially the Children's Advocacy Clinic and the Leading Law Students program. An added bonus was not being in the middle of a city, low cost of living, and amazing internship opportunities being located so close to Harrisburg.
Internship:
During my 1L summer, I was an intern for the U.S. Attorney's Office in Harrisburg. Since I'm not positive just where I am headed as a lawyer, the fact that I could work on both civil and criminal cases was very appealing to me. I had the opportunity to conduct research and write memos for a variety of supervising attorneys. This experience has helped me to understand court procedure better and see firsthand what a real "day in the life" of an attorney looks like. I've learned so much throughout this experience.
This fall, I will intern with a Dauphin County judge who focuses on juvenile criminal law and custody cases. I am interested in working with children in the future, so I'm excited to have this opportunity. I will be able to observe court proceedings and support the judge with research and writing.
Favorite Course:
I loved criminal law! The content was intense and made me angry — in a good way. I also loved the structure of the class. Each class, Professor Groome would call on a team of students and assign them to be prosecution or defense. It included a lot of thinking on your feet and really drove home the concepts for me.
Advice for Prospective Law Students:
You're not just going to be a generic "law student." You'll be you but studying law! I think keeping your personality, your strengths, your passions, and your connections are all very important to being a successful law student.
Something You Love About Carlisle:
Carlisle has everything I was looking for in a hometown — markets to buy local food, walking and hiking trails, festivals downtown, proximity to city life and the job opportunities that go with it.
On Choosing A Law School:
Every law school you attend will be challenging. I realized I wanted to be in a place that could challenge me academically, but still support me. The community should not add to the challenge! I'm very glad I realized this during my law school search because it helped me to choose Dickinson Law, and I am so glad I did.
You'd Never Guess That… :
I collect earrings and mugs.