Lucia Cuenca '20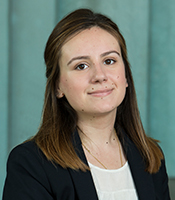 Hometown: Queens, NY
Email: luc293@psu.edu
Legal Areas of Interest:
Public Interest, Immigration Law, Human Rights
Undergraduate Study:
Manhattan College
Campus and Community Involvement:
Student Bar Association Honor Code Committee Chair, Public Interest Law Fund Event Coordinator, Medical-Legal Partnership Clinic, Domestic Violence Services of Cumberland and Perry Counties Board Member, Research Assistant, Phi Alpha Delta, Moot Court
A Dickinson Law Favorite:
I enjoy the tight-knit community at Dickinson Law. Law school is a wonderful opportunity but equally intimidating. It is nice to go to a law school where you feel that everyone is looking out for your best interests and development. During my time at Dickinson Law, I have gotten to know classmates and faculty well, which I appreciate, as it allows the law school experience to be as candid and enjoyable as possible.
Why Dickinson Law?:
Many great things drew me to Dickinson Law, but I think I was most impressed by the welcoming atmosphere and the community feeling. I felt like professors were genuinely interested in the students and contributing to their success, and that the students were just as interested and helpful to their peers.
Internship:
During my first summer, I was an IOLTA Fellow at the Community Justice Project where I worked on different areas of public interest law throughout the state of Pennsylvania. Where there, I was given the opportunity to explore my interest in immigration law. I later interned at the Medical-Legal Partnership Clinic during the fall of my 2L year, where I will be returning as an advanced student this fall. During my time at the MLP Clinic, I have explored a new area of public interest law while still being able to help immigrant communities here in central Pennsylvania. This past summer, I interned at a nonprofit in New York City called Her Justice through a PILF Fellowship. I worked with the immigration team to help women in poverty living in the City. I have also been a research assistant, which allowed me to learn about more discrete areas of the law while helping professors advance their scholarly work. I have been well-prepared both in and out of the classroom during my time at Dickinson Law, and have had interesting and enriching experiences because of this.
Favorite Course:
My favorite course has been International Human Rights with Professor Groome. I liked the discussions we had as a small class and writing about a topic of international human rights that was timely and important to me.
Advice for Prospective Law Students:
Follow your passions, but be realistic. Many students can find themselves in over their heads trying to measure their success by someone else's ruler. Everyone has the power and ability to be successful in this career path, so trust the process, and don't worry about the rest.
Something You Love About Carlisle:
The small-town feeling! Carlisle is a quiet and tranquil place to get work done, and its location near cities allows you to spend some time away doing something fun on the weekends.
You'd Never Guess That..."
While I was born and raised in New York City, I hail from a small rural village with a population of less than 100 in northern Spain.