Kristian Villegas '21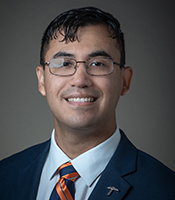 Hometown: El Paso, TX
Email: kxv239@psu.edu
Legal Areas of Interest:
Immigration, Education, Civil Rights, Criminal Law
Undergraduate Study:
University of Texas at El Paso
Campus and Community Involvement:
1L Mock Trial Competition, Latinx Law Student Association, Student Bar Association, Honor Code Representative
A Dickinson Law Favorite:
I enjoy how everyone interacts with each other like a family. Coming from undergrad into law school, I was fearful of how cut-throat other students would be and how distant the professors would be from the stories I was told. At Dickinson Law, I was happily surprised to find a community of students and professors who help each other out and take the time to understand and fix the problems each of us face.
Why Dickinson Law?:
When applying to law schools, my pre-law professor recommended that I research and consider applying to Dickinson Law. I was blown away by what the Law School had to offer. The various programs and the sense of community Dickinson Law expressed through its website and from communicating with the Law School gave me a feeling of comfort and family long before I even visited the campus.
Internship:
During my time at Dickinson Law, I have been able to spend my 1L summer as a judicial intern at the Cumberland Court of Common Pleas under President Judge Edward Guido. From my experience at the courthouse, I was able to view how attorneys, clerks, and judges interact with one another and how they carry themselves in the court and in their work.
Favorite Course:
Criminal Law because the course is carried out in a way where the students practice their oral skills as if they were in the courtroom. There are other opportunities to do this throughout law school, but this is the first time during 1L year that we were able to take part in such an activity.
Advice for Prospective Law Students:
Law school is a lot of work and can bring with it a lot of stress and sleepless nights. My advice? Stop and smell the roses. Take a walk around town. Get drinks with your friends. Knit. Go the movie theater and watch the latest film, with a group or by yourself. Eat a tub of ice cream. Cry watching Coco. Do whatever you need to relax and destress. Studying and practicing law is important for your future and in law school, but if you keep your eyes glued to the black text in the book, you will encounter sleepless nights and get sick really quickly, which could damage the progress you are trying to make. Take the time to enjoy yourself, do the things you love, and relax every now and then. I guarantee you that doing just that beats a cup of coffee any day of the week.
Something You Love About Carlisle:
Carlisle is not a metropolis, and I love how it is a place where you can go for walk, hang out with friends, and enjoy the day without being distracted by the loud noises and burdens of the big city. The community that Carlisle offers invites people to openly say hi to each other on the streets and lend a helping hand to strangers.
On Choosing a Law School:
If I had known the kind of people, education, and experiences that Dickinson Law offered when I was applying, I wouldn't have worried about going to any other school other than this one. Also, get a warm coat for the winter.
You'd Never Guess That..."
Back in high school, I performed stand-up comedy for the talent show. I didn't place as one of the top three acts, but I can tell you I made the entire auditorium laugh, and for me, that was always the goal.