Kendell Wilson '22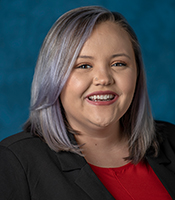 Hometown: Iowa Park, TX
Email: krw5499@psu.edu
Legal Areas of Interest:
Civil Rights, Disability Advocacy, Public Interest
Undergraduate Study:
University of Alabama
Campus and Community Involvement:
American Constitution Society, Honor Code Chair, OutLaw, Student Bar Association
Life Before Dickinson Law:
I'm from Iowa Park, Texas, and I went to the University of Alabama right after graduating from high school in 2015. I majored in Political Science with minors in History and Communication Studies with a focus on human atrocities. I graduated in 2019 and began law school at Dickinson Law in the fall.
A Dickinson Law Favorite:
I really like the community at Dickinson Law. We fully support one another. We're a family that makes law school easier than it would be without the community.
Why Dickinson Law?:
I did a virtual tour and fell in love with the small town environment of Carlisle. As cheesy as it sounds, it just felt right. I had a full "Say Yes to the Dress" moment and started tearing up because everything looked so welcoming and like a place I could call home.
Internship:
In summer 2020 after my 1L year, I had an Equal Justice Works Rural Summer Legal Corp Fellowship, where I was placed at Lonestar Legal Aid in Nacogdoches, Texas. In spring 2021 during my 2L year, I had an internship with the Pennsylvania Coalition Against Rape. In summer 2021, I had an internship with the Oklahoma Access to Justice Foundation. This fall, I am a Certified Legal Intern with Dickinson Law's Community Law Clinic.
Favorite Course:
My favorite course so far has been Civil Liberties Litigation with Professor Gildin. It focusses on Section 1983 Civil Liberties claims and how they developed over time. It is a really dense and difficult area to understand, but Professor Gildin made learning fun. He expects a lot from his students and wants everyone to participate, but because everyone knows the material is difficult to understand, there's no fear to answer a question wrong. Everyone was free to ask questions and give answers without the fear of being wrong or asking a "silly" question. It was a really supportive environment, and Professor Gildin even went out of his way to boost our confidence in ourselves and make sure that we knew that we were capable, even when we were unsure of our answers to questions.
Advice for Prospective Law Students:
Take time for yourself. There is a lot of pressure to be doing law school work all day, every day, and that isn't sustainable. Choose one day each week where you won't even think about law school and stick to it. The time off can help prevent burnout and ensure that your life outside of law school stays intact.
Something You Love About Carlisle:
I love how easy it is to walk Carlisle. You can get anywhere you want with a 10-minute walk. There is no need to drive if you don't want to or if you don't have a car.
On Choosing A Law School:
I wish I knew how meaningful community was in the decision-making process. When I was choosing a law school, I focused on schools with good reviews for community, but I had no idea exactly how important that was. Without my classmates supporting me through these last two years, especially through the pandemic, I'm not sure where I would be. The community made all the difference in being able to stay connected and not feel isolated while being socially distanced and completing studies remotely.
You'd Never Guess That… :
If I wasn't in law school, I would be a marine biologist or someone that works at aquariums with the marine life. My favorite fish is the guitarfish, which is a mix of a shark and a stingray. I would love to be able to swim with sharks and stingrays.
Favorite Book:
I read a lot, so I can't choose a favorite, but the most recent book I read was Angels and Demons by Dan Brown. The book that impacted me the most was Baptized in PCB's: Race, Pollution, and Justice in an All-American Town by Ellen Griffith Spears.