Kendell Wilson '22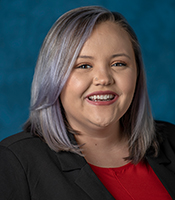 Hometown: Iowa Park, TX
Email: krw5499@psu.edu
Legal Areas of Interest:
Civil Rights, Public Interest
Undergraduate Study:
University of Alabama
Campus and Community Involvement:
President of OutLaw, Secretary of the American Constitution Society, 2L Honor Code Representative for the Student Bar Association, Mentor with the Women's Law Caucus' Mentorship Program
A Dickinson Law Favorite:
Because we all care about each other, we celebrate the good times together, and we help each other through any tough times.
Why Dickinson Law?:
While completing Dickinson Law's online virtual tour, I immediately felt a sense of home. I even cried a little!
Internship:
I was selected as a Rural Summer Legal Corp Fellow with Equal Justice Works and paired with Lone Star Legal Aid in Nacogdoches, Texas. I completed extensive research about how each state handles certain situations when residents are trying to obtain SNAP benefits. I created multiple research documents on the topic, and the research became an attachment for a case. It was beneficial to see how to research when you don't really have a starting point and how that research translates into material that can be presented to the court. Interning at a legal aid office reinforced my desire to work in public interest in the future.
Favorite Course:
My favorite course was Property. I really enjoy Professor Williams' teaching style, and I thought that it was very interesting. In addition, Professor Williams found ways to make the material more relatable for us, and it made the class really fun.
Advice for Prospective Law Students:
Take time for yourself, and don't feel bad about it. Law school can be stressful and take a lot of time, so finding that time to focus on yourself and to focus on relaxing is very important.
Something You Love About Carlisle:
Carlisle has a great selection of restaurants. My friends and I will go out to lunch or dinner a few times a week, and we have yet to find a bad restaurant. The food is always good, and they're all locally owned places, so you know you're supporting local business.
On Choosing A Law School:
Smaller is better! Because of Dickinson Law's intentionally small size, I spent a lot of time with classmates and was able to make friends almost immediately,. I don't think that would have happened at a larger school.
You'd Never Guess That… :
I'm really interested in marine biology, and if I was better at science, I'd be a marine biologist.