Kayla Duhaney '23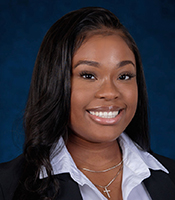 Hometown: Mount Vernon, NY
Email: kfd5348@psu.edu
Legal Areas of Interest:
Civil Rights Law, Entertainment Law, Education Law, Healthcare Law, International Law
Undergraduate Study:
George Mason University
Campus and Community Involvement:
Black Law Students Association, Deans Fellow (2020-2021), Law Lion Ambassador
Life Before Dickinson Law:
Before Dickinson Law, I volunteered as an AmeriCorps member for one year after receiving my bachelor's degree in 2019. Initially, I viewed this time away from formal education to study for the LSAT. Thankfully, the year turned out to be so much more than just a "gap" in my education; to the contrary, it was the most fulfilling journey I have ever embarked on. For starters, I was paired with a fifth grade, all-girls classroom located within Public School 75 in my hometown of Bronx, NY. In the time I've spent with those girls, each one of them created their own little space in my heart. I tutored eleven students in English, Language Arts, and Literacy. It was such a beautiful experience watching my students grow and become ready to take on the challenges of middle school. With their help, I built the courage to study hard and take the LSAT and apply to my top choice law schools. I eventually landed my seat in Dickinson Law's Class of 2023. I would not be where I am today without my 29 little sisters cheering me on!
A Dickinson Law Favorite:
I mostly enjoy my 1:1 time with the professors. It's important to reach out and introduce yourself to each professor. Especially during COVID-19, "Zoom School of Law" can be a real inhibitor when it comes down to trying to foster connections. Meetings with professors gave me an opportunity to obtain information otherwise not mentioned or missed in class, gain career advice, and establish a bond with some of the greatest minds in legal education.
Why Dickinson Law?:
I chose to attend Dickinson Law because of the community-centered environment fostered between the faculty and students. I felt Dickinson Law did a phenomenal job at accurately portraying a law school administration that deeply values student's presence, ability, and social emotional awareness.
Externship:
This past summer, I completed an externship at Air Products and Chemicals, Inc. I worked with their in-house legal team for eleven weeks on several global commercial litigation projects.
Favorite Course:
Legal Writing requires students to begin legal "thinking." Although I may have struggled with how to transition my regular writing into legal writing, I was able to track my progress and create visual representations of my growth throughout the year.
Advice for Prospective Law Students:
Be open-minded, open-hearted, and willing to take risks. Please understand that law school is unlike any other educational experience you have had, therefore it might work in your favor to drop any expectations. As a prospective student, never feel pressured or rushed into making decisions. This journey is a huge undertaking, so please carefully weigh your options and only make decisions when you are ready. Keep in mind, if you do end up choosing to attend Dickinson law, I can confidently say we are ready to welcome you with open arms.
Something You Love About Carlisle:
Quiet nature is conducive to a profile of a productive law student
On Choosing A Law School:
I wish I knew not to root my ability in my Law School's rank. I made the mistake of almost internalizing the ranks and using that number to gauge my life's turnout. I could not have been more wrong. Law school ranks offer a general idea of where their chosen school falls in comparison to others. However, your future is more dependent on your capability as a lawyer and less dependent on your chosen institution.
You'd Never Guess That… :
I am an only-child born to two Jamaican immigrants. I am a first-generation American and the first in my immediate family to obtain a higher education degree. I was once a radio personality with my own local radio show at 11 years old. I hope to someday take my talents and legal education back to the media as a legal correspondent for a major news media outlet.
Favorite Book:
Eloquent Rage: A Black Feminist Discovers Her Superpower by Britney Cooper