Jonathon Krisko '20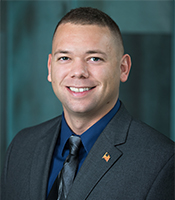 Hometown: Lawton, PA
Email: jzk302@psu.edu
Legal Areas of Interest:
Criminal Law, Military Law, Firearms Law
Undergraduate Study:
Widener University
Campus and Community Involvement:
Federalist Society, Military Law Caucus
A Dickinson Law Favorite:
The sense of camaraderie and teamwork that permeates the law school. You may have heard about the cut-throat nature of some legal education programs, and I am happy to report that Dickinson Law does not suffer from that defect. While there is a healthy amount of competition that naturally occurs, most people recognize they are here to better themselves, not beat someone else.
Why Dickinson Law?:
I chose to attend Dickinson Law because of the small class sizes, ideal location, and well-regarded professors. Those features, coupled with the name recognition that comes from being part of Penn State, made Dickinson Law a no-brainer as my top choice.
Internships:
In the summer of 2018, I completed an internship with the U.S. Army JAG office at Aberdeen Proving Ground, MD. This fall, I am conducting a local in-semester internship at the JAG office serving the Carlisle Barracks/U.S. Army War College. Both of these experiences have helped hone my military legal skills and better prepare me for my transition from an Armor/Cavalry officer to a dual professional in the U.S. Army JAG Corps.
Favorite Course:
Criminal Law with Professor Groome was both interesting and challenging, and taught by a professor who is remarkable not only for his expert knowledge and life experience, but also his teaching style. The entire course is built around "learning by doing" with homework, in-class presentations, and the exam geared towards simulating the work a junior ADA or defense attorney would be responsible for doing.
Something You Love About Carlisle:
There is an amazing number of things to do both in Carlisle and in the larger metropolitan area. Within three hours, you can be in Baltimore, Washington, D.C., Philadelphia or New York City (if you drive a bit on the fast side). Even if you usually like to stay relatively local (like I do), there is a wide variety of activities available to suit almost any temperament.
Advice for Prospective Law Students:
Get to know the people in your class as soon as possible. You will be spending an incredible amount of time with them your 1L year, so you might as well be friends! Almost everyone is new to the area, and almost everyone doesn't really know anyone else. The friends you make in law school will not only make your experience better, but will serve as contacts down the line in your legal career.
On Choosing A Law School:
Maybe I should have been a little more informed (and actually conducted in-person visits), but I am very happy with Dickinson Law and I don't think any additional information would have swayed my mind away from it.
You'd Never Guess That… :
My wife and I have a Pug named Mitchell. He is both awesome and unbelievably adorable.