Jessica DeLong '22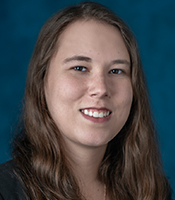 Hometown: Shamokin, PA
Email: jmd867@psu.edu
Legal Areas of Interest:
Public Interest, Family Law
Undergraduate Study:
Saint Vincent College
Campus and Community Involvement:
1L Dean's Fellow, Interest on Lawyers Trust Association Fellow, Law Lion Ambassador, Leading Law Student, Project Share volunteer, Public Interest Law Fund, Themis Bar Representative
A Dickinson Law Favorite:
I enjoy the close-knit community. Law school is difficult enough without worrying about whether or not you can trust your colleagues and classmates. People really do arrive here willing to help, which fosters a different more collaborative form of learning.
Why Dickinson Law?:
The scholarships I received made Dickinson Law an affordable choice for me. I loved the professors, staff, and students I met while touring. Everyone is extraordinarily welcoming.
Internship:
This summer, I completed an internship at North Penn Legal Services in their Sunbury office. Because of the small office, I have been able to "meet" with clients fairly frequently and attend any hearings they may have. Because of this, I have been able to put some of the knowledge I have learned in the classroom to work in a practical space. I feel infinitely more comfortable interacting with clients and other attorneys in a professional sphere.
Favorite Course:
Contracts was my favorite 1L course. Professor Mohamed Badissy made the class fun and understandable. He had puns in the concept introductions! I worried about being able to understand the material going in, but it was presented in easily digestible chunks. Contracts are an everyday part of life. You are bound to run into them frequently, and it is great to know more about them.
Advice for Prospective Law Students:
Remember that you are a person first and a law student. It is easy to lose yourself in the deadlines, readings, and difficulty of the course work. Take time for yourself, and don't work all day every day. You are not falling behind if you take a whole day off once a week or spend time with friends not studying. Schedule in breaks, and allow yourself to decompress. You will know more than you think you do, and it's okay not to know. You are here to learn and become a lawyer.
Something You Love About Carlisle:
Carlisle is almost the best of both worlds. It is a small community where you can really get to know the people around you and there is a lot to do within a close distance. There are good restaurants and breweries, and Harrisburg is very close by.
On Choosing A Law School:
Don't be afraid to pick a law school based on something other than rank. You do not necessarily need to go to the best school in the country to be employable. Legal opportunities also hinge on who you know. Go somewhere where you feel comfortable reaching out and networking.
You'd Never Guess That… :
I graduated high school in a class of 13 students!