Iman Woodyard '21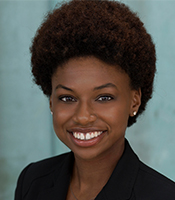 Hometown: Harrisburg, PA
Email: isw19@psu.edu
Legal Areas of Interest:
Social Justice, Civil Rights, Public Interest, Juvenile Law
Undergraduate Study:
 The University of Tennessee – Knoxville
Campus and Community Involvement:
Vice President of Black Law Students Association, Class Representative on the Diversity and Educational Equity Committee, Women's Law Caucus, Public Interest Law Fund
A Dickinson Law Favorite:
The strong connection you make with almost everyone who walks in the building: the environment here is welcoming, as the professors and staff make an intentional effort to know who you are, both as a student and an individual. Whenever alumni come back to visit the school, they are invested in your law school journey and are willing to share tips and opportunities that they are knowledgeable about. You can tell that Dickinson Law is a special place, as we all have become a tight-knit community.
Why Dickinson Law?:
After going away for my undergraduate degree, I decided that it was beneficial to return to my home state to enhance my roots in my community. My acceptance letter included a handwritten note from Dean Saidman-Krauss detailing what she liked about my application and how much of an impact I could make in the Law School community, which made me feel truly wanted as an incoming student.
Internship:
The summer after my 1L, year I interned at MidPenn Legal Services in York, PA, a non-profit law firm dedicated to providing legal advice and services to low-income individuals. I enjoyed my time there because I was exposed to a variety of issues in civil law: unemployment compensation, protection from abuse, landlord/tenant dispute, federal income tax issues, and many more. At MidPenn, I sharpened my communication skills because I interacted with clients, either on the phone or in person, on a daily basis. I am not yet sure what specific type of law I want to practice, but this internship solidified my passion for advocating for vulnerable populations who may not have access to legal services due to socio-economic hardships.
Favorite Course:
My favorite course so far would be Torts. Although there is a lot of information to remember, Professor Mogill does well with making the material relatable to everyday life.
Advice for Prospective Law Students:
Law school is obviously difficult but PLEASE remember to enjoy your life as well. Life does not get put on hold for three years just because you are in school. In any competitive environment, it can be very easy to get lost in the anxiety and stress levels of others, which could cause you to get caught up in things that you do not have to worry about. You need to find the balance between striving for academic excellence while maintaining your physical, emotional, and mental health. Find time to breathe, and make memories that are not necessarily law school-related. Remember that the big picture focus at the end of this is to acquire the knowledge and skills necessary to pass the bar exam and/or genuinely thrive in your career choice. Law school is a struggle, but find some time to enjoy yourself before it passes by!
Something You Love About Carlisle:
It is easy to access surrounding major cities because of where Carlisle is located. I commute to class because I live in Harrisburg, and it is an easy drive. Places like Philadelphia, Pittsburgh, Baltimore, D.C., New York, and New Jersey are all within a drivable distance for potential job placements or even just a road trip with friends.
On Choosing a Law School:
Do not be afraid to contact the Admissions Office for any questions and concerns that you have. Just like they evaluated you to see if you are a good fit for the Law School, you have to take initiative to make sure the Law School is the right fit for you according to your own standards as well.
You'd Never Guess That... :
I am very much an athlete, as I have competitively been involved in over seven different sports in my lifetime. In high school, I was a Junior Olympian in track and field. In college, I was on the Women's Varsity Rowing team. Now in my retirement, I enjoy long-distance running to keep in shape.