Ian A. McDonald '22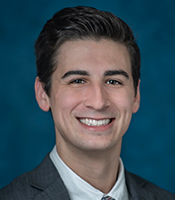 Hometown: Austin, AR
Email: iam5151@psu.edu
Legal Areas of Interest:
Public Interest, Contracts, Education Law, Bankruptcy
Undergraduate Study:
University of Arkansas — Fayetteville
Campus and Community Involvement:
Associate Editor for the Dickinson Law Review and Vice-President for the Federalist Society
A Dickinson Law Favorite:
Dickinson Law's small community and active alumni network offer some very unique opportunities. It is quite easy to get to know just about every one of your classmates, and the professors are very open and happy to help you succeed. I went to my professors many times throughout 1L year and never left without either the help I was seeking or a higher understanding of something I was confused about. Additionally, both the faculty and students at Dickinson Law are very accepting and encouraging. The close-knit community also causes Dickinson Law alumni to be very eager to speak with current students. I have reached out to many alumni about opportunities or advice, and more often than not, I receive very elaborate and accommodating responses.
Why Dickinson Law?:
My reason for attending Dickinson Law is quite different than many others. I knew that upon my graduation from the University of Arkansas, I wanted to try something new in a new place. I applied to many schools throughout the northeast. At the same time, my fiancée (now wife) who was graduating with her BSN applied to several children's hospitals in the same areas. It just so happened that Dickinson Law provided me with a great opportunity at the same time my wife was hired as an RN for Penn State Children's Hospital Pediatric Intensive Care Unit. My first day of orientation was actually my first time seeing the law school!
Internship:
This summer, I had the opportunity to work as an intern for the Pennsylvania Office of General Counsel, Department of Conservation and Natural Resources. Due to the complications caused by COVID-19, my work has been strictly remote. While this has been challenging, it has afforded me the opportunity to adapt my style of working and become comfortable with telework. I have been given many opportunities to bolster my research and writing skills, have been exposed to drafting new types of documents as well as the inner-workings of a legal office, and have become comfortable with presenting my findings and ideas to my supervising attorneys. I definitely have a stronger desire to work for a state government entity. This fall, I will intern for the Pennsylvania School Board Association, which will allow me to explore my interest in education law and nonprofit work.
Favorite Course:
My favorite course was Contracts. The straightforward application of rules to facts conforms well with my rational way of thinking. Although it may sound strange, I like that there is not a lot of regard for emotion in making a determination on the terms of a contract. Aside from the subject matter, Professor Badissy was exceptionally accommodating and offered us many opportunities to enhance our understanding of the material throughout the semester.
Advice for Prospective Law Students:
Do not spend all your time on a given day doing law school-related stuff! Schedule your time or set aside time in the evening to stop studying and do things for yourself. As someone who's first year of marriage was also their first year of law school, has a 15-minute commute to school, and owns two pets, I quickly realized that I could not devote all of my time to school. It really is important to have things in your life that can take your mind off law school for a few hours a day, whether that be family, exercise, pets, or activities with friends. Don't spend your whole weekend locked up inside; be sure to get out and find new things to do. Also, make sure to get a healthy amount of sleep. I truly believe that my law school-life balance allowed to me succeed to the level that I did my first year.
Something You Love About Carlisle:
Carlisle and the surrounding areas have some really great breweries. I really enjoy trying new types of beer and am always open to checking out somewhere new!
On Choosing A Law School:
I wish I spent more time considering where I want to practice after I graduate. I knew that my long-term goal was to return to Arkansas and help my home-state community, but I didn't give much thought to where I wanted to be immediately following law school. I do not have a desire to stay in central Pennsylvania and foresee a bit more of a challenge for myself in making a transition to a new area. Luckily, many individuals in Dickinson Law's fantastic alumni network have been very open to establishing connections and discussing my options after law school.
You'd Never Guess That… :
I grew up on my grandfather's dairy farm many miles outside of a small town in central Arkansas. Most of my family lived within about a mile radius of each other and I spent countless hours in the summers doing hard labor on the farm. I was taught the value of taking pride in my own work to produce an excellent result that could aid others. I always knew that I wanted to pursue higher education to continue to help others, but from my youth until sophomore year of college, I thought that the way to do that was to become a doctor. I also have passion for soccer. I grew up playing soccer, and even had an opportunity to play for a college (which I passed on). Though I have not played in a while, I avidly follow the sport in Europe and am always open to playing a pick-up game!