Heather Townsend '23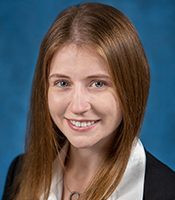 Hometown: Ottawa, Ontario, Canada
Email: hst5058@psu.edu
Legal Areas of Interest:
Criminal Law, Cyber Law, National Security, Privacy, Technology Law
Undergraduate Study:
University of Toronto
Campus and Community Involvement:
I serve as Research Editor for Dickinson Law Review, Triston "Chase" O'Savio Intraschool Competition Chair for the Moot Court Executive Board, Mock Trial Team, Student Bar Association, Public Interest Law Fund, OutLaw, Criminal Law Society
Life Before Dickinson Law:
I grew up in Ottawa, Canada. For the two years before law school, I was managing a restaurant in Toronto's downtown core.
A Dickinson Law Favorite:
I am so grateful for the community I have been welcomed into at Dickinson Law. Coming from a very large school, I am always surprised by how accessible and supportive the faculty and staff are for all students.
Why Dickinson Law?:
I was able to build incredible relationships with both students and faculty prior to committing to Dickinson Law. The kind, authentic, and positive approach that each individual displayed convinced me that this community would be a good fit.
Externship:
I've been lucky enough to have a variety of valuable externship opportunities while at Penn State Dickinson Law. Over my 1L summer, I worked on a policy surveillance project with Temple University's Center for Public Health Law Research and participated in a case analysis for the Pennsylvania Innocence Project. In 2L, I worked as an intern for a Cumberland County Judge, and over the summer worked with the Queens District Attorney's Office in New York City. I will also work for the Maryland Public Defender's Office - Appellate Division in my 3L. Each experience has taught me crucial skills and lessons that will help me serve my community as a lawyer in the future.
Favorite Course:
My favorite course so far has been Constitutional Law with Dean Gaudion. As an international student, it was fascinating to be able to compare legal systems and learn the basics of the Constitution.
Advice for Prospective Law Students:
Don't compare yourself to others. We are all here for different reasons, come from different backgrounds, and have very different goals. Take advice from a variety of people but be willing to stick with what works for you and what makes you happy, not what others say you "should" be doing.
Something You Love About Carlisle:
Carlisle is a beautiful area with lots of great parks and trails. Moving here from a big city, I really appreciate being able to take a book and read in a park or go for a hike with friends without having to travel far.
On Choosing A Law School:
Look beyond just the academics; your interests will change or grow as you learn and experience the law, but the community and culture will also be a big factor in your law school experience. Reach out to current students, faculty, or alumni to learn more about the community at the school.
You'd Never Guess That… :
I have been water skiing with an Olympic medalist.
Favorite Book:
Thank You for Being Late by Thomas L. Friedman