Giovanna Brackbill '20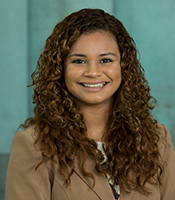 Hometown: Lancaster, PA
Email: gxo21@psu.edu
Legal Areas of Interest:
Public Interest, International Law
Undergraduate Study:
Lebanon Valley College
Campus and Community Involvement:
Bethesda Mission Legal Clinic, Health Law & Policy Society, Latinx Law Student Association, Public Interest Law Fund, Women's Law Caucus
A Dickinson Law Favorite:
The alumni are very willing to mentor students. Be sure to attend networking events and connect with these amazing individuals. Additionally, I really appreciate all of the time and effort that the professors put into designing the curriculum to prepare us for life after law school.
Why Dickinson Law?:
The school impressed me from the first moment I stepped foot on campus. It almost seemed too good to be true. But sure enough, the people really ARE this friendly, the class sizes are intimate, and the town of Carlisle is centrally located in Pennsylvania, so I am close to my hometown but also within a reasonable distance of Harrisburg and Philadelphia.
Internship:
During the summer after my 1L year, I worked as a Pennsylvania Legal Aid Network MLK Intern at the Pennsylvania Public Utility Law Project (PULP) in Harrisburg. Through this internship, I learned how to make a difference by approaching the issues facing my clients using more than one method. Not only does PULP take a bottom-up approach with its crisis hotline and advocating before the administrative law judges on behalf of Pennsylvania's low-income residential utility and energy consumers, but it also uses a top-down method by shaping public policy and opening dialogue with the utility companies.
Favorite Course:
Professor Terry's Context and Competencies course allowed me the opportunity to build my professional portfolio and think critically about my future career. This class is designed to connect students with experienced practitioners so you can ask them questions about what it is really like to work in their field.
Advice for Prospective Law Students:
Take advantage of the incredible resources that are available to you, including career services, student organizations, guest speakers, volunteer opportunities, and wellness events.
Something You Love About Carlisle:
In addition to its rich history, Carlisle has a farmers market, car shows, and local events that promote small businesses. Compared to some nearby cities, Carlisle's lower cost of living and slower pace make it conducive to a student's lifestyle (and budget!). Coffee shops and micro-breweries are popping up around town and diversifying the options for where you can go to study or spend an evening off.
On Choosing A Law School:
I wish I had known that you cannot do everything. Rather than worrying about picking a school that has dozens of options for every night of the week, choose a place that has the core things that you are looking for—whether it be a solid mock trial team or a legal clinic opportunity—and go all out on those.
You'd Never Guess That… :
My husband is a wedding photographer who specializes in destination weddings and elopements. I enjoy shooting and traveling with him when I can.