Fredner Prevalus '23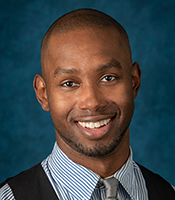 Hometown: Toronto, Canada
Email: fjp5135@psu.edu
Legal Areas of Interest:
Antitrust and Insurance Law, Business, Corporate, Law and Economics, Tax Law 
Undergraduate Study:
McMaster University 
Campus and Community Involvement:
Outside of my responsibilities as a Law Lion Ambassador, I serve as the treasurer for the Animal Legal Defense Fund and participate as a Leading Law Student with the Carlisle Borough Council. 
Life Before Dickinson Law:
Prior to law school, I spent six years working in the financial services industry at a major bank as a broker/underwriter. During this time, I was involved in a number of community initiatives. One of the initiatives included being on the board of directors for a local non-profit organization that attempts to address issues surrounding fatherlessness in urban communities. Prior to this period, I completed my master's degree in 2014 and my honors bachelor's degree in 2012. During this time, I was a teaching assistant for a microeconomic course and was involved in a variety of extracurricular activities.  
A Dickinson Law Favorite:
What I enjoy most about Dickinson Law is its size and relationship with Penn State. Dickinson Law's intimate size provides an individual with the benefit of a small-school setting where faculty and staff are more accessible while reaping the benefits of larger school with a strong and recognizable national brand.
Why Dickinson Law?:
In addition to the beautiful, historic, and intimate setting, combined with a strong national brand, I was inspired by the leadership team's commitment to accessibility and diversity, which is consistent with my own personal value system. Accessibility is reflected in the Law School's financial awards combined with the Law School's belief in the importance of having a legal profession be more reflective of the communities that it serves through a diverse student body.  
Internship:
In my 1L year, I had the pleasure of working in the admissions office as a student representative, where I assisted prospective and admitted students while participating in some fun and engaging spring open house activities. During my 2L summer, I had a paid internship with a non-profit organization that focuses on providing civil legal services to low-income clients. The legal practice area primarily focuses on family law (divorce, child custody, domestic violence), housing, and public benefits assistance. I'm also very excited that I will be interning with the Adams County Public Defender's Office during the fall of my 2L year. 
Favorite Course:
I generally enjoyed most of my courses, but my favorite course thus far would likely be Civil Procedure. I like the fact that unlike my substantive courses, it is applicable to all areas of practice. I also enjoy the technical chess game aspect of procedural posturing and the interesting fact that a case can be won or lost for reasons outside of the substantive merits of the case but on the strength or lack thereof of parties' knowledge of procedure. I witnessed some of this during my summer internship while assisting my supervising attorney in a housing eviction case. 
Advice for Prospective Law Students:
My advice is to be careful to not lose yourself while attempting to "fit in" with the standards set by others or conform to some antiquated perception of what it means to be a good law student or legal professional. You were chosen because you have something unique that will contribute to the richness of the Dickinson Law community. Don't be afraid to share this. Don't be afraid to use your voice. Don't be afraid to be a bit bold and step outside of your comfort zone. Don't be afraid to make mistakes or be your authentic self. Don't allow others to dim your light. Do be mindful of the health of your own mental, emotional, and physical well-being while continuously practicing self-care. 
Something You Love About Carlisle:
During my 1L year, I lived in nearby Harrisburg and did not have extensive contact with Carlisle due to the mostly remote-learning environment; however, I did enjoy my experience in Harrisburg. I was centrally located downtown to nice restaurants and was near the riverfront where I was able to run along the scenic trails. 
On Choosing A Law School:
There isn't anything that I know now that would have affected my decision to attend Dickinson Law. In fact, what I've learned thus far has only strengthened and reaffirmed my decision to attend Dickinson Law.
You'd Never Guess That… :
I'm a health and fitness enthusiast who enjoys working out. I am a long-distance runner soon to be completing my first marathon. I became a certified personal trainer over ten years ago. I enjoy travelling to destinations off the beaten path with my fiancée, and we're aiming to visit every continent. I speak three languages. In the past, I had the opportunity to work with the federal government and intern with a United Nations agency in Geneva. 
Favorite Book(s):
Dead Aid by Dambisa Moyo and The Wealth of Nations by Adam Smith