Foday Turay '23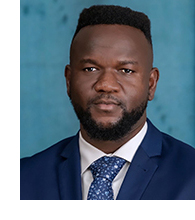 Hometown: Silver Spring, MD
Email: fkt5047@psu.edu
Legal Areas of Interest:
Criminal Law, Family Law, Civil Right Law, Immigration Law
Undergraduate Study:
University of Maryland, College Park
Campus and Community Involvement:
President of The Black Law Student Association, Criminal Law Society, American Constitution Society
Life Before Dickinson Law:
Prior to law school, I worked part-time and attended classes at the University of Maryland.
A Dickinson Law Favorite:
My favorite thing about Dickinson Law is the friendly community. I have created meaningful friendships and connections since my arrival.
Why Dickinson Law?:
I decided to attend Dickinson Law because of its inclusive community. Dickinson Law thrives on its commitment to diversity and inclusion. In addition, I received a generous scholarship offer.
Externship:
During the Summer of 2021, I completed an externship at the American Consumer Institute Center For Citizen Research. I worked as a policy researcher and writer and was privileged to have 10 of my articles published. I also worked as a research assistant for Professor Drake. In addition, I worked as a law clerk for the Charles Koch Institute. Currently, I am working as a judicial intern at the Superior Court of Pennsylvania for the Honorable Judge Stabile.
Favorite Courses:
Family Law and Criminal Law
Advice for Prospective Law Students:
Study hard during your first year because it is the most crucial year of your law school career. Someone once told me that once you make it past your first year, you are almost certainly closer to graduation.
Something You Love About Carlisle:
I enjoy the peace and quiet of Carlisle, which creates a great study environment and limited distractions.
On Choosing A Law School:
My advice for choosing a law school is to select an institution that will make you feel welcome and included. The school you choose to attend will become a significant part of your life. So, make sure you are happy with your choice.
You'd Never Guess That… :
I was a refugee from Sierra Leone, a DACA recipient, and a first-generation college graduate. Do not let labels or barriers define or defeat or destroy you. Let it strengthen you.
Favorite Book:
The Fire Next Time by James Baldwin