Erin Seu '21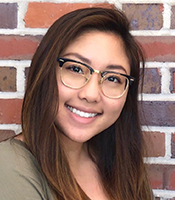 Hometown: Jacksonville, FL
Email: ezs408@psu.edu
Legal Areas of Interest:
Property/Real Estate Law, International Law, Hospitality Law
Undergraduate Study:
University of Florida
Campus and Community Involvement:
Women's Law Caucus, Student Bar Association, International Programs, Research Assistant
A Dickinson Law Favorite:
The close-knit community. I went to one of the biggest universities in the country, so the change of environment was new for me. Everyone is willing to help because we all know each other and are friends with one another.
Why Dickinson Law?:
In addition to the close-knit community, the faculty-student relationship also seemed very personal and intimate. This intimidated me at first because I felt professors would know me by the mistakes I make in class, but it's not that way at all.
Favorite Course:
I especially enjoyed Property because Professor Skladany is awesome and because my dad is a real estate agent, so it personally appealed to me more to be able to see the legal side of what he does every day. I also loved Criminal Law with Professor Groome because of the simulations we did and hearing the creative arguments that my classmates came up with to defend their cases. The best thing about Torts was that everything was very clear-cut and organized, with each tort having its own set of elements to meet.
Advice for Prospective Law Students:
Don't be afraid of cold calling — that's what absolutely terrified me the most about law school. I was prepared to be embarrassed every class by being called out (literally) for not knowing the answer, but I quickly realized that I'm never the only one. And, the professors do a great job of guiding you to the right answer!
Something You Love About Carlisle:
Everything is walking distance! I love being able to make last minute plans with my friends and arrive at the destination in five minutes, or stay out late and still make it home within five minutes, as well. It saves a lot of time and gas, and walking to and from school is a nice way to prepare for or unwind from the day.
On Choosing a Law School:
Take location into consideration in all aspects (city, demographics, the building itself) because it may matter more than you think. I almost chose to go to a law school in a major city and am so relieved now that I didn't because the commute would've taken up much of my day, the location was not in the safest area, and the building was not as open and inviting as Lewis Katz Hall. Carlisle is far enough away enough from the city that you can focus and not get too distracted by big events happening every week but close enough for a day trip to Harrisburg or a weekend trip to Philadelphia or Washington, D.C.
You'd Never Guess That... :
I love to travel and am trying to visit every continent. So far, I've been to four of seven (and 16 of 50 states, including D.C.). I also have a split uvula!