Elikem Tsikata '21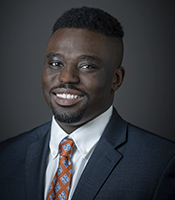 Hometown: Great Falls, VA
Email: ekt30@psu.edu
Legal Areas of Interest:
Transactional Law, Mergers and Acquisitions, Company Creation, International Trade
Undergraduate Study:
Miami University (Ohio)
Campus and Community Involvement:
Vice President of Student Bar Association, Black Law Students Association, Business Law Society
A Dickinson Law Favorite:
It's rare to be surrounded by such a quality collection of people. In the traditionally hyper-competitive environment that is law school, our community does a great job of making everyone feel welcome and comfortable. From classmates to professors to administration, one of the top priorities is making sure everyone feels at home.
Why Dickinson Law?:
I chose Dickinson Law because of their belief in my potential. Out of all the schools I considered, Dickinson Law stood out from the rest. It was clear upon my visit that they were invested in my personal development as a lawyer, and that I'd receive individualized attention in my pursuit of career opportunities.
Internship:
I worked at Deloitte Consulting in Camp Hill during my 1L summer within the firms Governmental consulting branch. The internship was a great opportunity to develop my legal research skills as well as cultivate new skills in data analysis and client consulting. Although not a traditionally legal position, a lot of the skills I harnessed translated to my legal education immediately thereafter.
Favorite Course:
Criminal Law was my favorite 1L class. Professor Groome does a great job of putting you in a position where you exercise your lawyering skills from day one. Working with a partner, students read about different crimes and then mock prosecution and defense for the specific case. This class forced us to prepare our own creative arguments and argue against classmates in real time. Seeing our improvement over the semester was extremely gratifying. The class is a testament to Professor Groome's ability to instill confidence in us and push us to believe in ourselves.
Advice for Prospective Law Students:
Law school is inherently difficult and a lot of work. It is important that you don't let the stress of school interfere with your health and your life. Make sure to take time for yourself. Enjoy time with your friends. Find a routine you are comfortable with. Law school will be a part of your life, but it shouldn't become all of it.
Something You Love About Carlisle:
Carlisle has all the wants of a bigger city but with a small-town feel. It's easy to walk around and is especially beautiful in the spring. Carlisle also has a surprising amount of local restaurant options. Brick and Mt. Fuji are my personal favorites.
On Choosing A Law School:
Be sure to visit. It's important to get in-person exposure to your potential home for three years.
You'd Never Guess That… :
I hope to get a skydiving license in the next three years.