Dennis Scoggin '23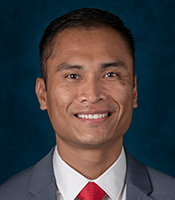 Hometown: Lemoore, CA
Email: dfs5691@psu.edu
Legal Areas of Interest:
Corporate Transactional Law, International Criminal Law
Undergraduate Study:
Campbell University
Campus and Community Involvement:
I am the treasurer of the Student Bar Association and a Law Lion Ambassador. I also enjoy participating in school-sponsored sporting events. Representing the student body is a fantastic way to foster new relationships.
Life Before Dickinson Law:
Prior to Dickinson Law, I was a Marine, operations manager, and substitute teacher. I also attended a post-baccalaureate pre-medical program. Life experience helped prepare me for the arduous schedule of law school.
A Dickinson Law Favorite:
My favorite thing about Dickinson Law is the cozy community. Everyone you meet here is warm and inviting. 
Why Dickinson Law?:
I chose to attend Dickinson Law because of the supportive community, generous scholarship, and commitment to diversity and inclusion. 
Internship:
I am working as a summer law clerk for Abom & Kutulakis, LLC. The hands-on experience is phenomenal. I am drafting legal memoranda, including presentencing motions, jury instructions, responses, court orders, findings of facts, and wills. I am conferring with trial counsel and observing federal and local courtroom proceedings, including complete trials, sentencings, and appeals. I have spent significant time on the lengthy federal case that involves significant legal analysis and research.
Favorite Course:
I enjoyed and excelled in Property. Professor Skladany's teaching style put the least amount of pressure on me as a student, which allowed me to focus on the material instead of worry about what to say next. Also, the subject material piqued my interest. Many questions were like fun puzzles.
Advice for Prospective Law Students:
Treat yourself during the summer before law school. Relax. Spend time with those you care about because you'll never see them again. I mean… prepare them for the lack of seeing your face for the next three years. Do not waste time and try to brief cases. That is what law school is for.
Something You Love About Carlisle:
The community is friendly.
On Choosing A Law School:
I did my due diligence when I researched law schools.
You'd Never Guess That… :
I love football, but I also love Broadway.
Favorite Book:
East of Eden by John Steinbeck