Dennis Scoggin '23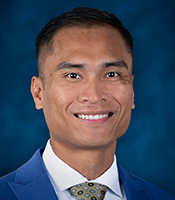 Hometown: Lemoore, CA
Email: dfs5691@psu.edu
Legal Areas of Interest:
Corporate Litigation
Undergraduate Study:
Campbell University
Campus and Community Involvement:
I enjoy participating in school-sponsored sporting events.
Life Before Dickinson Law:
Prior to Dickinson Law, I was a Marine, operations manager, and substitute teacher. I also attended a post-baccalaureate pre-medical program. Life experience helped prepare me for the arduous schedule of law school.
A Dickinson Law Favorite:
My favorite thing about Dickinson Law is the cozy community. Everyone you meet here is warm and inviting. 
Why Dickinson Law?:
I chose to attend Dickinson Law because of the supportive community, generous scholarship, and commitment to diversity and inclusion. 
Externship:
I have been working as a law clerk for Abom & Kutulakis, LLC for over a year. I also completed an externship with Legal Aid of Southeastern Pennsylvania's Veterans Advocacy Project. My experience has included researching germane legal issues, drafting numerous legal memoranda, and assisting attorneys with federal and state trials.
Favorite Course:
Jurisprudence was the perfect blend of law and philosophy. Law & Medicine was the perfect blend of — take a wild guess… (obstetrics issues are fascinating).
Advice for Prospective Law Students:
Breathe. Enjoy your summer before law school.
Something You Love About Carlisle:
The community is friendly.
On Choosing A Law School:
Follow your heart. And don't forget to breathe.
You'd Never Guess That… :
I love football, but I also love Broadway.
Favorite Book:
East of Eden by John Steinbeck