Danny Grace Gray '21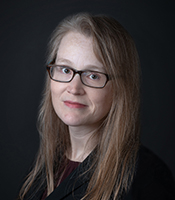 Hometown: Bella Vista, AR
Email: tlp243@psu.edu
Legal Area of Interest:
Criminal Defense
Undergraduate Study:
Warner Pacific University
Campus and Community Involvement:
Criminal Law Society, Constitution Law Society, Women's Law Caucus
A Dickinson Law Favorite:
Everyone cares at Dickinson Law. Everyone. From the Dean and the Café staff members to your classmates—they know you, they want you to succeed, and they go out of their way to make sure you know they care.
Why Dickinson Law?:
Dickinson Law was my top school on the spreadsheet I created when deciding where to attend. I considered bar pass rate, employment rate, cost to attend combined with scholarship opportunities, cost of living, and an outstanding legal education. I absolutely made the right choice.
Internship:
I am currently interning at the Cumberland County Public Defender's Office. I also had a summer internship at the Pennsylvania Judicial Conduct Board. My experiences have expanded my understanding of working as a lawyer generally and as a public defender specifically. I have improved my writing and research skills by creating documents that make a difference in the lives of those I came to Dickinson Law to help. The lawyers at the Conduct Board and the Public Defender's Office have given me many opportunities to grow in knowledge and experience.
Favorite Course:
My favorite course is Torts. People do crazy things, and the best crazy things end up in a Torts book.
Advice for Prospective Law Students:
A big part of your law school experience is building relationships in the legal community. Finding a law school, like Dickinson Law, that offers multiple opportunities to engage with alumni and lawyers is critical to a successful future in law.
Something You Love About Carlisle:
One thing I love about Carlisle is the walkability. Almost every weekend there is a community event happening that's just a short walk away.
On Choosing a Law School:
I would advise prospective law students to reach out and have a conversation with a current law student. We understand the significance of selecting the law school that is the best fit and we would be happy to help you with that process.
You'd Never Guess That... :
I collect cute garden statues.