Daniel Dolan '22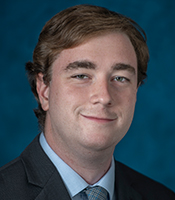 Hometown: Mount Prospect, IL
Email: dfd5308@psu.edu
Legal Areas of Interest:
International
Undergraduate Study:
Marquette University
Campus and Community Involvement:
American Constitution Society, Law Lion Ambassador, Leading Law Students
A Dickinson Law Favorite:
The people at Dickinson Law compose an intimate, helpful, family-like environment.
Internship:
This fall, I will intern with Cumberland County Court of Common Pleas under the Honorable Thomas Placey. I learned early-on that gaining as much internship experience as possible is key to helping you prepare you for your career.
Favorite Course:
My favorite course was Criminal Law. I found each case to be different and interesting.
Advice for Prospective Law Students:
Make time for yourself. If you just focus on the work, you are going to burn out.
Something You Love About Carlisle:
It's a quaint, quiet town.
On Choosing A Law School:
Overall, I have been very happy with my experience at Dickinson Law. Remember that law school will likely be harder than you initially thought.
You'd Never Guess That… :
I am an avid tennis player, and I have dual citizenship with Ireland and United States.