Christopher Riley '20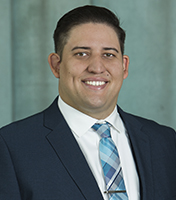 Hometown: Sacramento, CA
Email: cur253@psu.edu
Legal Areas of Interest:
Cyber Law, Constitutional Law
Undergraduate Study:
Grand Canyon University
Campus and Community Involvement:
Environmental Justice Law Society, Intellectual Property Club, Intramural Sports
A Dickinson Law Favorite:
The community really is incredible. Professors care and want to help you succeed, and the alumni continue to take pride in Dickinson Law and support the school. The small class sizes make it easy to know everyone. There is a great diverse group of students here that help me learn not only about law, but also about life experiences that are new to me since I'm from the west coast.
Why Dickinson Law?:
I wanted to be close to the Washington, D.C. area because of my interest in politics and potential internship opportunities. Dickinson Law is only about a two-hour drive away. I had also been told how important trial advocacy is in law school, and Dickinson Law is one of the best. It also came down to finances. Dickinson Law works hard at making it more affordable through scholarships. I wanted to limit my debt as much as possible.
Internship:
Doing intake interviews at Bethesda Mission and expungement clinics in Carlisle and Harrisburg helped to calm my nerves. Initially, legal work looked like this impossible task where I had to have the answer to every problem off the top of my head. Working at these clinics gave me a real sense of the work and a great opportunity to learn how to speak to clients.
Favorite Course:
My favorite course was Criminal Law first semester of 1L year. Students were selected at random to either defend or prosecute a case in every class session. I found that having to prepare both arguments for each class was like playing chess against myself trying to find the best defense and then trying to tear through that defense.
Something You Love About Carlisle:
Coming from San Francisco, Carlisle was a change of pace. It definitely has its charms! I love the Wednesday Farmer's Market in the town square where you can find fresh vegetables, fresh baked pies and donuts, and local apple cider. The local pubs also have trivia nights every week that are always packed with students—and sometimes even law professors!
Advice for Prospective Law Students:
Trust yourself and work hard. Don't feel that you have to know exactly what type of law you want to practice right now. Odds are you will change your mind when you start interning and exploring different areas of law.
You'd Never Guess That… :
Before law school, I used to work in film and television. I filmed in Honduras for two weeks for a nonprofit that works with orphans and homeless children in what was then considered the murder capital of the world.