Chelsea M. Dickert '21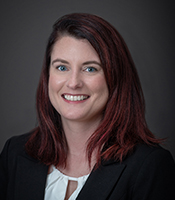 Hometown: Mechanicsburg, PA
Email: cxs1022@psu.edu
Legal Areas of Interest:
Wildlife Protection, Animal Rights, Environmental Law
Undergraduate Study:
The Catholic University of America and Penn State
Campus and Community Involvement:
Animal Legal Defense Fund, Wellness Committee
A Dickinson Law Favorite:
The community. My colleagues are so supportive, and we really look out for one another. It helps to have close friends when slogging through the difficulties of law school.
Why Dickinson Law?:
As someone who is originally from the Central Pennsylvania area, I knew that I wanted to attend Dickinson Law because of its outstanding reputation, the alumni network, and the proximity to many major cities.
Internship:
My judicial internship with the Pennsylvania Superior Court helped me work on my research and writing. It gave me a chance to read many different types of briefs about many different areas of law, which helped me to decide what type of law I am interested in.
Favorite Course:
My favorite course so far has been Civil Procedure because I like rules, and I also enjoyed Professor Terry's enthusiasm and her "tricks" to help us remember the information.
Advice for Prospective Law Students:
Know when you need to take a break. Everyone is going to work hard in law school but that doesn't mean you have to work incessantly with no breaks. If you've been sitting for six hours, you aren't helping your brain learn any new information. Get up and take a walk! Many times, if I've been sitting in the library for too long, I will make a point to get up, go outside, and walk around the block. I find that when I come back to studying, I have a fresh perspective and can retain more information. Also, eat your vegetables! It's so easy to eat poorly because it's quick, but if you aren't eating healthy, your productivity and retention will falter.
Something You Love About Carlisle:
Issei Noodle
On Choosing a Law School:
Don't change the way you study or take notes. When I got here, I thought I had to switch-up the way that I take notes, and I think that it really wasted a lot of my time. If you know how you study, don't change your method just because other people do it differently. Do what works for you!
You'd Never Guess That... :
I am a huge Dave Matthews Band fan and have seen them in concert over 30 times.