Casey Dennis '21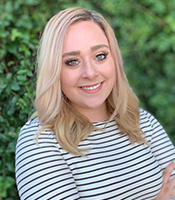 Hometown: Odessa, TX
Email: cxd784@psu.edu
Legal Areas of Interest:
Sports and Entertainment Law
Undergraduate Study:
Texas Tech University
Campus and Community Involvement:
Student Bar Association 2L Representative, Women's Law Caucus Activities Chair, Vice President of Sports and Entertainment Law Society, Dickinson Law's First Sports Arbitration Team Competitor, Marketing and Communications Student Employee
A Dickinson Law Favorite:
I have really enjoyed getting to be a part of the community at Dickinson Law. We have so many great professors and brilliant students; it makes every day an interesting and illuminating experience.
Why Dickinson Law?:
I chose Dickinson Law because it felt like home to me. There are so many factors that go into choosing a law school, but Dickinson Law is the place where I truly felt that I could thrive.
Internship:
I had the opportunity to work as a clerk for a law firm in Texas in the business, estate, and oil and gas law legal areas. I drafted hundreds of legal documents, attended hearings and depositions, and performed a wide variety of research. This experience has helped me grow as a future lawyer because I learned how to meet deadlines, work with other attorneys, and draft and redraft documents until they are perfect.
Favorite Course:
My favorite course so far has been Civil Procedure. I love the way Professor Terry taught this class. I am a rules person—so Civil Procedure and I understood each other!
Advice for Prospective Law Students:
If I could give one piece of advice to prospective law students, it would be to make great friends in law school. You will need each other, especially during the first year.
Something You Love About Carlisle:
I love fall in Carlisle. I am from Texas, and until moving to Carlisle, I never saw the trees change colors throughout the seasons. Everything become hues of orange and red, and I think it is so beautiful!
On Choosing a Law School:
I wish I would've known how many note cards, pens, pencils, and highlighters I was going to use. I would have stocked up before I started law school.
You'd Never Guess That..."
I love to travel, and I have already been to six countries.