Caitlin Demiral '21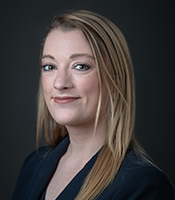 Hometown: Midlothian, VA
Email: czc684@psu.edu
Legal Area of Interest:
Family Law and DV
Undergraduate Study:
Virginia Commonwealth University
Campus and Community Involvement:
Women's Law Caucus, Animal Legal Defense Fund, Public Interest Law Fund
A Dickinson Law Favorite:
As a student at a smaller school, you really get to know your fellow classmates and professors. Since many of us are moving far from home to attend school, it's easy to find a chosen family at Dickinson Law that makes home not feel so far away.
Why Dickinson Law?:
I enjoyed the small town charm of Carlisle and liked how supported all the students felt when visiting.
Internship:
I had an IOLTA fellowship position this past summer at Laurel Legal Services in Greensburg, PA. This was the first time I was exposed to the family law and domestic violence sector, and it was an eye-opening experience. I really enjoyed being able to help someone get out of a dangerous situation and feel safe again.
Favorite Course:
My favorite course was Family Law. I really enjoyed how it overlapped with so many other areas of law such as Constitutional Law and Information Privacy.
Something You Love About Carlisle:
Carlisle has occasional festivals that are fun to walk through. They are typically set-up along High Street so you can check them out on your way to class.
On Choosing a Law School:
Be flexible and open to change. You don't have to know exactly what you want to do after law school right away. You don't even need to know after your first year.
You'd Never Guess That... :
I met my soon to be husband (or depending on when you're reading this, husband) at my Dickinson Law orientation. Anything is possible here at Dickinson Law!