Brian Ragunan '20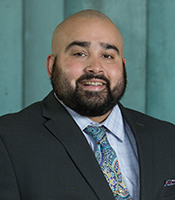 Hometown: Ben Lomond, CA
Email: bzr64@psu.edu
Legal Areas of Interest: 
Immigration, International Business, National Security
Undergraduate Study: 
Saint Joseph's University
Campus and Community Involvement: 
Community Outreach Committee, Military Law Caucus
A Dickinson Law Favorite: 
I have really enjoyed getting to know the other students. They are an incredibly diverse and remarkable group. They have succeeded and failed and grown across a wide variety of backgrounds and industries.
Why Dickinson Law?: 
Being a student with a prior career, I knew what I wanted and what had helped me in my professional and personal growth. Dickinson Law checked all of those boxes. I wanted small class sizes so that I could build relationships with classmates and professors. I wanted an education that focused on the day-to-day of professional practice and mastery of craft beyond abstract theory. Most importantly, I wanted to be in an environment driven by values.
Internships:
I spent my 1L summer working for Immigration Support Services in Enola, Pennsylvania. They specialize in business immigration for a wide swath of businesses and visa types. It was a non-traditional legal environment where I worked with people who had backgrounds in business and technology, as well as a great group of lawyers. The work was fast-paced, and I made a real difference for people who wanted to follow my own family's path in coming to America to build a better life and American businesses—big and small—continue to stay on the global cutting edge.
I also worked with the U.S. Army War College's Strategic Studies Institute. We researched Veterans Disability, the effect on the profession, and consequently the Nation's continued ability to fight and win wars. The research was interesting and provided me the opportunity to co-author something in my first year of law school.
My internship and informational interviews alone were really enlightening. I met a lot of local folks in the legal community. I learned about a lot of jobs I would have never otherwise considered. It was interesting to talk to so many alumni and hear how dedicated they were to the community here. Many of them wanted to share war stories about their experiences with our deans and professors when they were students.
Favorite Course: 
I really enjoyed Constitutional Law. So much of the course material interacted with the world outside of the law. The history and backstory behind many of the cases and figures involved was really interesting.
Something You Love About Carlisle:
There are so many great outdoor activities. I've just scratched the surface of opportunities to hike, fish, kayak, shoot, and so much more. We're right in the middle of some of the region's best waterways, trails, and scenery.
Advice for Prospective Law Students: 
There isn't a single best practice. Of course you can learn a lot by examining the systems and habits of your peers and those who came before you, but don't be afraid to do what works for you.
On Choosing A Law School: 
Don't be afraid to pick a school or place that "feels" right. There isn't a single best answer for which law school is the best for you; however, you need to make the best of the place you choose. It's much more than a diploma; it's about the community you join. Few communities we join do we get to choose. Where you do, like in law school, pick the community where you will be happiest and that best represents your values.
You'd Never Guess That… : 
My personal life and career has taken me all over the world, including Iraq and Afghanistan with the Marine Corps; however, I most enjoy traveling and exploring America. I believe as we get more access to knowledge about the best and brightest, we've lost the art of being lost. The small towns and big cities all over the country have so much more to see, do, taste, and experience than we could ever fully comprehend. I believe we take the places we're from—especially the small places, the old places, and the isolated places—for granted. I do my best to learn as much as possible about all of them.