Breayne Bennett '21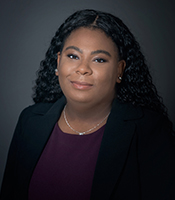 Hometown: Houston, TX
Email: bxb822@psu.edu
Legal Areas of Interest:
Criminal, Civil Rights, Litigation
Undergraduate Study:
Stephen F. Austin State University
Campus and Community Involvement:
American Constitution Society, Black Law Students Association, Dickinson Law Review
Why Dickinson Law?:
Community is important to me, and I felt like Dickinson Law's intentionally small community was a fit for me. In addition, the financial aid options that were presented to me helped to relieve some of the burden associated with financing my legal education.
Internship:
I am currently an intern with the Federal Chief Magistrate Judge for the Middle District of Pennsylvania, which has been an enlightening experience for me. I also found my participation in the expungement clinic fulfilling. 
Favorite Course:
Criminal Law and Property: they just clicked for me. 
Advice for Prospective Law Students:
Know that your academics are not indicative of intelligence, and networking is extremely important.
On Choosing A Law School:
Location, location, location!
You'd Never Guess That… :
I'm a pescatarian.