Bianca Nalaschi '20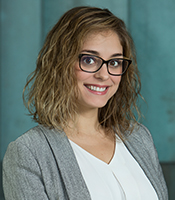 Hometown: Milford, PA
Email: bxn33@psu.edu
Legal Areas of Interest: 
Public Interest, Criminal Law
Undergraduate Study: 
West Chester University of Pennsylvania
Campus and Community Involvement: 
Leading Law Students; Miller Center Pro Bono Advocate; OutLaw; Volunteer Income Tax Assistance; Wellness Committee, co-chair; Women's Law Caucus, vice president
A Dickinson Law Favorite: 
What I enjoy most is the support and encouragement of the professors, staff, and alumni. Everyone does their best to guarantee we succeed. Dickinson Law has a highly motivated network of individuals who love to engage with current students. Post-graduation, I will definitely be taking trips back to visit and attend some of the fantastic networking events Dickinson Law hosts.
Why Dickinson Law?: 
I chose Dickinson Law for the small size. I knew I would have the ability to cultivate meaningful relationships with the entire Dickinson Law family.
Internships: 
During my 1L summer, I worked for North Penn Legal Services (NPLS) and provided legal aid to low-income individuals. I chose NPLS because there is a pervasive need for assistance in legal services. As such, there is no shortage of work or opportunity to learn and grow! While there, I was exposed to various areas of substantive civil law and gained a great deal of practical experience. This was the perfect 1L summer position to further develop my advocacy skills.
Favorite Course: 
Constitutional Law—nothing is more important than understanding and protecting the fundamental rights of every human being.
Something You Love About Carlisle:
The small town charm.
Advice for Prospective Law Students: 
When you get here, enjoy the ride while you can—time flies.
On Choosing A Law School: 
I wish I knew the importance of doing your own research. It is especially important to speak one-on-one with current law students to get their perspectives. Also, go with your gut.
You'd Never Guess That… : 
I taught myself how to play the flute at age 12.