Berk Varim Demiral '20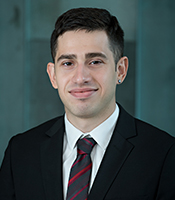 Hometown: Vancouver, BC
Email: bud98@psu.edu
Legal Areas of Interest:
Criminal Law, Public Interest Law
Undergraduate Study:
University of British Columbia
Campus and Community Involvement:
Medical-Legal Colloquium; Phi Alpha Delta (PAD) Law Fraternity, marshal; trial competitions, including the 1L mock trial competition, which improved my ability to work in a team and represent a side that I was not entirely comfortable representing (prosecution).
A Dickinson Law Favorite:
I enjoy the fact that everyone here has a good heart. Of course, we are competitive and we like to study hard, but we are nice to each other. I was utterly unfamiliar with the legal environment and finding my place in it was a stressful experience. I would not have been able to complete my first year if I did not have caring, understanding, and helpful faculty members and students around me.
Why Dickinson Law?:
I did not have enough money to attend law school. The financial aid was a significant factor in me coming here. However, I was leaving everything behind in Canada and needed to feel that wherever I chose, I would not feel lost and alone. The faculty members and admissions team showed me that they cared about each and every student no matter their grade, background, and place of origin.
Internship:
After my 1L year, I worked for MidPenn Lancaster as a summer intern. I began to realize that real-life cases are not as clear-cut and straightforward as they seem on paper. It takes a lot of courage to come up with an unusual argument and present it in court when lives of people you have met are at stake.
Favorite Course:
My favorite course was Criminal Law. I enjoy the rule- and statute-based approach to law because I believe such an approach is less ambiguous and more effective in formulating arguments. The course taught me how to begin analyzing and using statues for legal arguments. Every time I look at a statute I have never seen before, I know how to understand and use it for my benefit.
Something You Love About Carlisle:
The number of distractions is minimal here, but you will still find everything you need without a problem.
Advice for Prospective Law Students:
Focus on Civil Procedure during your first semester. That course is tough!
On Choosing A Law School:
I knew I wanted to go to an ambitious school with friendly people, and I got what I wanted. Dickinson Law does not hide the ball. However, if you want to go to a school where you can hide from your professors and classmates, this is not the school for you. Everyone knows everyone else, and we are very friendly.
You'd Never Guess That… :
I am a Turkish citizen that finished high school in Malaysia, attended university in Canada and Japan, and came to law school in the U.S. I don't think you see that combination every day.