Ashli Lyric Jones '21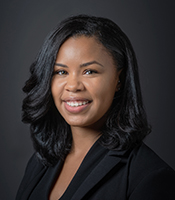 Hometown: Farmingdale, NY
Email: auj527@psu.edu
Legal Areas of Interest:
Sports and Entertainment Law, Intellectual Property
Undergraduate Study:
Spelman College
Campus and Community Involvement:
President of the Sports and Entertainment Law Society, Mentorship Chair for the Women's Law Caucus, Social Chair for the Black Law Students Association, Phi Alpha Delta
A Dickinson Law Favorite:
I enjoy Dickinson Law because it is a close-knit community. I know that I can ask my classmates or any other person at Dickinson Law for help, and they are willing to do so with no hesitation. I also enjoy the fact that all of the students that attend Dickinson Law provide a different outlook on life. I believe we all benefit from a diversified classroom by being able to hear the thoughts and opinions of our peers who come from so many different places.
Why Dickinson Law?:
I chose Dickinson Law because of the close-knit community that reminded me of home. All of the professors and alumni are well-accomplished and personable, which is exactly what I was looking for in a law school. To be completely honest, I wasn't exactly sure how my transition from a historically black college would be, but I knew I chose the right place when I came to Dickinson Law, unannounced the week after graduation, told the admissions office only my first name, and immediately they knew exactly who I was.
Internship:
This past summer, I had the pleasure of interning at the Brooklyn District Attorney's Office. I was responsible for handling my own misdemeanor cases under the supervision of Assistant District Attorneys, had the opportunity to second-seat MAPP and Huntley hearings, spoke on the record at criminal court, wrote motions, and interviewed witnesses and victims. I also have worked as a research assistant exploring copyrights and the effects screen-time has on health. These experiences have strengthened my work ethic and made me more confident in my abilities.
Favorite Course:
My favorite course would definitely have to be Legal Argument and Factual Persuasion. I enjoyed the teaching style of Professor Gildin during the fall semester. I also enjoyed the fact that we worked through various simulations that helped us become more familiar with interviewing witnesses and giving closing arguments. These are all practical skills that all lawyers need to master to be the best attorney they can be.
Advice for Prospective Law Students:
I wish I would have known more about examinations and the way to succeed in law school. Being a first-generation college student, I didn't have anyone to guide me during my law school process. I wish that I would have taken the time to understand how long I have to take an examination, and how to properly prepare and outline for exams.
Something You Love About Carlisle:
I love the different restaurants in Carlisle. Moving to Carlisle has influenced my love for trying new types of food. My favorite restaurant is Brick! I also love all of the local coffee shops. They are great places to study at during the semester.
On Choosing a Law School:
I would definitely encourage prospective law students to visit law schools and ask as many questions as possible. It is important to choose a school where you feel comfortable.
You'd Never Guess That... :
I have traveled to over 15 different countries. As a freshman at Spelman College, I studied abroad in Harbin, China, taking courses in Mandarin and Chinese culture. Most recently, I went to Cape Town, South Africa and taught children in the Mandela Park Community English, Math, Reading, and Writing.