Ashley Javitz '20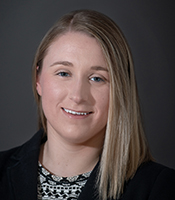 Hometown: Dickson City, PA
Email: aaj163@psu.edu
Legal Areas of Interest:
Intellectual Property Law
Undergraduate Study:
University of Scranton
Campus and Community Involvement:
Intellectual Property Society
A Dickinson Law Favorite:
Definitely the welcoming atmosphere! When I transferred to Dickinson Law, I remember experiencing a wave of different emotions. I was excited to start a new adventure, but I also was very nervous because I had to navigate a new school and town while at the same time meet new students and professors.
During this transition, the faculty and staff were especially helpful. Many of them took the opportunity to reach out to me to connect both professionally and personally. Their actions showed me how much they care about the success of their students. Beyond orientation and my first few days on campus, these same faculty members and staff have continued to be as accessible and as supportive as when I first met them.
Why Dickinson Law?:
When deciding where to attend law school, I knew I wanted a place not only where I felt at home, but also one that made me proud to have attended. As a third-year student, I know that I made the right choice.
Internship:
This past summer, I served as an intern for the IBM Corporation in their Patent Center. I drafted patent applications and responded to office actions.
During the school year, I served as a judicial intern for the Honorable Thomas A. Placey of the Cumberland County Court of Common Pleas. During this internship, I had the opportunity to observe civil and legal proceedings and to strengthen my legal research and writing skills. I also served as a Volunteer at the Bethesda Mission Legal Intake Clinic and the Cumberland County Wills for Heroes Program.
In the summer of 2018, I served as an intern at the United States Patent and Trademark Office, where I worked with patent examiners in the Biotechnology and Organic Chemistry Technology Center preparing office actions. While at the USPTO, I gained a working knowledge of the Manual of Patent Examining Procedure, and the technologies and techniques patent examiners use to search for prior art.
Collectively, these work experiences helped to strengthen my legal research, writing, and analytical skills. They also taught me the importance of meeting deadlines, working independently and collaboratively, and maintaining a positive attitude and a professional demeanor.
Favorite Course:
My favorite course was Federal Criminal Practice with Chief Judge Conner and Judge Jones of the United States District Court for the Middle District of Pennsylvania. In this class, we explored all of the stages of a federal criminal prosecution, starting with the decision to charge, and continuing through trial and sentencing. Both judges and a variety of guest lecturers presented the materials. This class provided me with a practical, "real-world" review of the federal criminal justice system.
Advice for Prospective Law Students:
Don't get caught up in the competitive aspect of law school. Focus on doing your very best, and be supportive of and respectful to your classmates. It will make for a more positive law school experience.
Something You Love About Carlisle:
From biking and hiking trails, and car shows and races, to pumpkin patches and orchards, shopping, and dining, there's something to do during every season.
On Choosing a Law School:
Thoroughly research the law schools where you intend to apply, and match your interests to what they offer.
You'd Never Guess That...:
I flip old, dilapidated houses with my family. I do everything from demolition to tiling and painting.