Aranda Stathers '23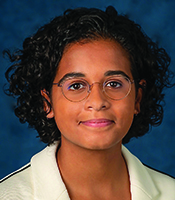 Hometown: Newport News, VA
Email: ams10366@psu.edu
Legal Areas of Interest:
Public Interest Law, Criminal Law
Undergraduate Study:
Virginia Commonwealth University
Campus and Community Involvement:
Managing Editor of the Dickinson Law Review, Moot Court, OutLaw, Women's Law Caucus, Public Interest Law Fund (PILF), Black Law Students Association (BLSA). Most weeks, I play ultimate frisbee and football with my classmates.
Life Before Dickinson Law:
Prior to law school, I was an international educator and public health researcher as well as a Chicago-based community organizer.
A Dickinson Law Favorite:
I love the relationships I have established with the faculty and staff at Dickinson Law. As a first-generation law student, it is great to know that if I'm feeling overwhelmed by school or uncertain about my career trajectory, I have legal professionals in my corner who understand my motivations and who can offer me advice.
Why Dickinson Law?:
I chose Dickinson Law because before I even committed, I felt a part of the community. The outreach I received from current students, alumni, faculty, and staff during my decision process made it clear that if I chose Dickinson Law, I would have a strong support system behind me every step of the way. Spoiler alert: I was right!
Externship:
During my 1L summer, I interned with the Office of Capital and Forensic Writs, a Texas state public defender office that represents the majority of persons sentenced to death in their state post-conviction proceedings. Additionally, as one of Professor Megan Riesmeyer's research assistants, we researched how our current legislation addresses technology-facilitated domestic violence and how Dickinson Law and its clinics can collaborate with local, community-centered organizations.
Favorite Course:
In 1L, my favorite courses were Criminal Law with Professor Groome and Legal Writing with Professor Prince. Both professors created a safe atmosphere where students could develop the skills and confidence necessary to develop their oral and written legal argument skills. Additionally, their advice and feedback throughout my time at Dickinson Law have been invaluable.
Advice for Prospective Law Students:
Trust your gut. When entering law school, everyone will advise you on what to do, where to go, and how to do it. Some of it will be solid advice, but most of it you can ignore. Ultimately only you know what is right for you. If you trust yourself and the process, you will not make the "wrong" decision.
Something You Love About Carlisle:
For a small town, there is quite a bit to do in Carlisle. We have an outdoor farmer's market, a decent variety of restaurants, hiking trails, bowling, and more.
On Choosing A Law School:
Particularly for my fellow first gens: Be proactive about seeking out alumni and current students of the schools you are interested in, but also remember that their experiences, for better or worse, are not necessarily reflective of what your experience will be. There is no one way to do law school, and you'll only find out what works for you by trial and error.
You'd Never Guess That… :
Through my previous work, I've lived in Italy, China, South Africa, and Cambodia as well as traveled throughout Southeast Asia for various research projects
Favorite Book:
If They Come in the Morning by Angela Davis